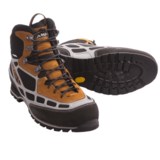 Closeouts. AKU's SL Trek hiking boots provide complete weather protection, durable longevity, exceptional breathability and dependable traction. The supportive, breathable upper features a waterproof breathable Gore-Tex® membrane, cushioned Internal Midsole System and Vibram® rubber outsole that's ideal for rugged, rocky trails.
Average Rating based on
8
reviews
3.750000
0
5
Verified Buyer

Reviewed by Daimon from US on Friday, December 26, 2014

It was uesed thinh that I received. I still couldn't hear the reason from Sierra.
No more mention is needed.

Reviewed by BennydaFarrierandHorseFarmer from North east PA on Wednesday, November 26, 2014

Great boot!

Reviewed by Cascade Hiker from washingtonia on Wednesday, October 15, 2014

I wanted to like these boots but on my first trip wearing them I ended up with a blister on the *top* of my left foot... highly unusual and a first for me (I've been hiking for 30 years). Upon inspection it turns out that the interior fabric lining is loose and had doubled up causing an area of increased friction, and thus a blister. Otherwise they seemed to perform OK.

Not much to be done about loose fabric inside the boot, so I had to return them.
Total cost of buying defective boots: $12.47, repackaging and a lot of browsing time...


Reviewed by Fire Danger from Oregon on Friday, August 1, 2014

My old boots just finally gave up and I have never liked my Nikes so I bought these on a whim. after a very short break in they were my foot wear for 6 days and 35+ miles in Glacier Peak Wilderness. It is a big boot but it did not over heat my feet even in the summer heat. They did great on snow, mud, creeks and were really good when going down the many 45 degree slopes.

Great boots!

I may have to buy a second pair before they go away because I like them that much.

Happy hiking!

Reviewed by Rocky from Boulder, CO on Saturday, June 28, 2014

AKU has a reputation for innovation, and these boots reflect this. They are very light, 3 lbs 2 oz in my size 11.5 (Euro 46). This compares favorably to the popular Asolo TPS 520 backpacking boot at 4 lbs 4 oz in the same size. The AKU are more than a half pound lighter on each foot. The sole is very stiff for such a light boot, comparable to a heavy-weight backpacking boot, but the sole is also extremely thin. It measures just a quarter inch at the base of the lugs to the insole; a little over a half inch from the ground to the ball of your foot . This is about half the depth of the sole of the Asolo boot at the same place. The sole of the AKU Tribute (also at STP) is over an inch thick at that point.

The sole of the AKU boot has an "alpine cut," that is, the sole is trimmed inside the perimeter of the upper. This improves traction on narrow footholds, but also offer less protection to the upper from protruding rocks and boulders. There is no rand, just leather patches around the toe and heel with the area inside the instep unprotected. A single trip on some rugged Rocky Mountain terrain could shred this boot.

Despite the fragile character of the boots they have worked well on a couple of trips where crampons (10-point on one trip, 6-point on another) have been helpful in climbing long patches of modest snow slopes. My feet actually got chilled on these trips, something I've never experienced with more robust boots. They also worked well on stiff approach trails. On another trip over an old pack trail to a former fire lookout it became awkward to hike the easy grade, the boots were just too stiff.

The boots seem sized for a mid-width, mid-volume foot. My low volume narrow (AB width) foot fits comfortably with a mid-weight cushion sock and standard liner with wiggle room for my toes and a little extra width across the ball of my foot. I've added a fairly thick insole which also reduces the volume to better fit my foot. About six miles into my first trip the boot began biting into my heel. I attribute that to the stiffness of the boot not being a good match to the near flat tundra slope I was crossing. The toe and heel counters give the upper much of its impressive support, but have little padding, little give. Otherwise, the boots have been very comfortable.

The boot works very well on rugged terrain, but not too rugged since the upper is not well protected and the sole is very thin. It is not for easy trails or harsh terrain, but good on snow. They remind of some Italian trail boots I had long ago, boots that I did shred after just a couple of trips. The quality is excellent. This is a five-star boot if it matches your specific needs, but I give it three stars because in my opinion it is too specialized and fragile for more general use. Then again, I only do mountains.

Verified Buyer

Reviewed by Gila Hiker from New Mexico on Thursday, May 8, 2014

Request for reviews often come too soon for specialty items like this new venture into the mountaineering boot market. At this point I have only tested these under moderate conditions with ~40 lb. pack and so far they are living up to the hype. Here is a professional review that I totally agree with. Note that if you search for the same guy who wrote this review, he does a follow-up sometime later and is even more happy with them (durability).

http://theadventureblog.blogspot.com/2012/07/gear-closet-aku-sl-trek-gtx-hiking-boots.html

I will check in later after first multi-day trip with heavy pack. I can't help but wonder if they ended up as closeouts because they sounded too good to be true? Unfortunate as they may well be!

Verified Buyer

Reviewed by fly2mike from seattle on Tuesday, April 29, 2014

these seem to fit very narrow in the forefoot, and somewhat loose in the heel and ankle. My foot is skinny in the heel and ankle and wide in the forefoot. Call em Hobbit feet I guess. Anyway these boots did not seem like they would be very comfortable. They are quite stiff in flex.

Reviewed by Applewood from washington state on Friday, February 28, 2014

I've just gotten my 2nd pair of these AKU gore-tex hikers (the first were a slightly different style, and have served me well for over 5 years now, for general 4 season hiking and summer backpacking, but have recently begun to tear and leak a little), and they are very nice - light, warm, water-proof, with good ankle support and traction. Right out of the box today I wore them on a couple of mile hike in the snow and the only issue is they gave one heal a hot spot.... so, some breaking in should be expected.