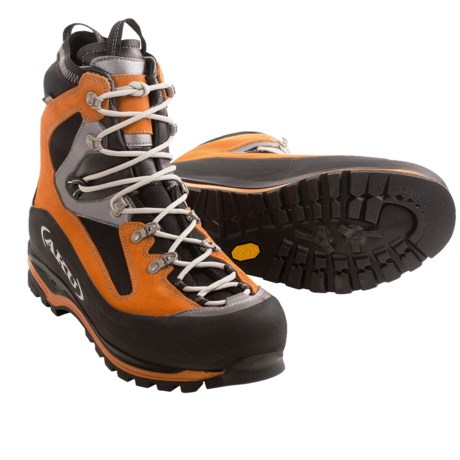 I believe they are insulated. They are not heavily insulated though and are not the warmest boots. My feet stay dry and they are comfortable if I wear good warm socks. If you are looking for a cozy pack boots these will not work. But if you need a good boot to work in all day in the winter they are great. Maybe get a have siZe bigger to fit thick socks. They have a great tying system that is very adjustable

first the aku boots are not true to size in my opinion. I had purchased a new pair of aku gtx edge boots in size 12. I put them sole to sole together and measured the insides as well and I was right. in my case I wear a 11.5 usa size ('usually' a 45.5) in the AKU montagnards or terrealte that would be a
usa size 11 - it was in my case so keep that in mind.

Anyway, these boots may have insulation in accordance w aku web site specs but the terrealte w primaloft is much toastier indeed but having said that I had the aku terrealtes out in say minus 5 degree weather in foot n half of powder hiking w medium weight socks on my feet stayed dry and got a little cool in
a 2 hour hike- so, no I don't think the isulation is comparible but w heavyweight wool socks on you might get 3-5 hours maybe more climbing. montagnard w primaloft will keep your toes toast guaranteed. both boots seem to be built like tanks. worn my terrealtes few months no issues w "hotspots n such"

I will also say that the scarpa charmoz gtx boot what a great outta the box boot may be my best fitting boot ever and comfort top notch.....u better by these if you really want a great boot at a great price...get em online w discount at top of page. no regrets w mine at least.

I will end by saying the great customer support staff at scarpa/koflach and lowa helped me to understand that the Italian boot manufacturers will sometimes fluctuate on the sizing of the boots from euro to u.k. standard which in turn will apparently be the reason the sizing can be different from
Italian boot makers. hope that helps.