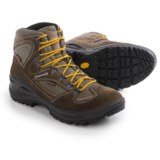 Closeouts. Whether you're traversing the Teton Crest trail or scrambling up the Middle Teton, AKU Teton hiking boots provide superb stability. Handcrafted in Italy, they feature a flexible suede and nylon mesh upper and a Gore-Tex® waterproof breathable membrane for protection from afternoon thunderstorms.
Questions about this product? Get answers from community and staff experts.
Question
(10 Questions)
Answer
(37 Answers)
"Your description of hiking boots has 4 categories. Do you consider these to be "hiking boots" or "backpacking boots"? I'm looking for backpacking. thanks,"

I do not consider them "backpacking" boots. A backpacker is a little more rugged than these. Though they offer good ankle support and are very waterproof.

Flat terrain backpacking they will be fine. Anywhere there is a steep ascent or prolonged uphill most likely will find you wanting a boot with a stiffer shank. I don't know if there is a true shank in this boot, they like to talk about the molded exoskeleton. They are a pleasure when hiking but in prolonged steep climbs I sometimes find my mind straying to my heavyweight boots. Very nice lightweight boot.

The designation is in the overview and the title. These are listed as hiking boots.

"Do they have good ankle support "

yes, very good. They felt just a little bit like ski boots when i first put them on. They really hold your foot/ankle solidly, and after several months of owning them, I've hiked all over my little mountain property, including thru my creek and I LOVE them.

I'm hoping they offer them once again, so i can buy another pair.

Yes, better and more comfortable than high end hockey skates. The arch support is very good,too although I would recommend a gel insert. The lacing system is laid out nicely and the padding on the tongue allows you to snug the laces down without any blood loss below the ankle.

Give them a couple days to form to your feet, they are good like that. Never had to stop to tighten the laces either. Tie 'em once and go.........

Yes, these are designed with good ankle support.

Hi Doug, in my experience using AKU boots over the last 10 years or so, I have found that they provide excellent ankle support without being a heavy boot like other brands. Hope this helps!

"Are these true to size or run small or large? "

According to our fit team this item is running true to size.

I first bought the 10.5 for my boyfriend and they did fit but there was an issue with a seam rubbing in the little toe area. He loved the boots, though, so we decided to get the 11's. Basically, the 11's just gave him more room in the toe box so there is not a rubbing issue. I would say they are pretty true to size. He has some shoes of both size, but if you think you need a bit more room in the toe area, go with the larger size.

I found them to be true to size.

true to length. wide toe box, works for me as i have wide feet. took a while to break in, now i love them

These seem to run true to size. - he wears 11 - 11.5 and we ordered 11.5 My husband always wants extra toe room for hiking boots these fit perfectly.

"What is us8 size in cm for AKU shoes? Thanks "

According to AKU sizing charts US 8 is 26.5 cm.

"Do they have steel shanks?"

No steel shank but a a fAirly heavy duty sole

I don't know, they don't appear to have steel shanks. You may want to google the manufacturer. I don't see steel shanks in the specs on the STP website, the STP website tends to be pretty accurate. The boots are light in weight.

Nope, exoskeleton design and height provide fairly decent rigidity that works well for trails. These are hiking boots not climbing boots so they're not primarily designed for glacier travel where crampons are needed & steel shank boot construction is highly desirable.

I'm not sure if it has a steel shanks but the boot is has a stiff shank with good stability

I don't believe so. These are more day/ overnight hikers than they are week-long backpackers.

No

We apologize, but this item is sold out. We suggest signing up for the My Updates as the best way to monitor incoming products. You will receive email notifications of our newest stock items.

"I usually wear a 10 or 10 1/2 EE and have a wide flat type foot. New Balance tennis shoes in 10 1/2 EE fit perfectly. I ordered a pair of Asolo Scaffell boots that seem to fit well, but are just too hot for me. I live in GA and will be using for mix use. Mostly summer and fall with trail walking more than backpacking. Will this boot fit alright and not be too hot? I am also looking at the Asolo Horizon or Asolo Neutrons.

Thanks"

These boots fit a medium width. I have a medium with foot and sometimes late in the day when my feet are tired and swollen, the boot is tight. Unless they offer a wide, I don't think they would work for you.

Hi' I normally wear a size 10 1/2 d And i had to get a size 11 1/2 med and they seem to fit real good .I just got back from a hunting trip and wore them every day my feet didn't get to hot with temp, around 80 would buy again, it took 3 pair for me to get the right size. hope it helps



Tom,
No heat problems for me with these boots . The nylon upper allows the heat to escape , and it gets over 90° in Marin where I hike.
I like these AKU so much I have two more unopened pair on the shelf .

A

I found the aku boots to be very comfortable in cold and hot conditions we have here in South Dakota. My feet do not sweat, and are a joy to wear in the extreme climates we have here!

I don't have these but the Transalpina and Arriba boots which are very close siblings. I have slightly wide feet in a 10.5 shoe, 11 boot. I have a couple pairs of Aku in size 11, they fit great with an aftermarket insole. They are the best fitting boots out of all the brands I have.

Both boots breathe better than any Gore-tex boot I have ever tried. I got them specifically so I could have Gore-tex options in warmer weather.

My husband wears the same size shoe as you. He found the AKU Teton Gore-Tex® Hiking Boots - Waterproof (For Men) to be comfortable enough to wear on a 24 mile walk. The boots were practically just out of the box. He says these are lighter than the Asolo boots he's replacing, and didn't overheat his feet even after 24 miles, or on subsequent hikes over rocky terrain. I did order these a 1/2 size larger (size 11) because my husband likes to wear a liner socks under his thicker hiking socks.

These shoes, including a fairly high volume insert, fit my foot well with the laces fairly tight and I wear 11.5 D width New Balance shoes. So, with the original inserts there might be enough room for a wider foot. I would at thsay for Gore-Tex boots, these boots might be a bit cooler than most because there is a lot of mesh, but any waterproof boot is not going to be "cool" in high temps.

Thanks, everyone. I just received the Asolo Neutrons, which are really tight for a "wide" size. Funny, no size W or EE on the box, just "Wide Fit" on the tags. Wondering about returning them and ordering these AKUs - as they were my first choice anyways.

"Do these boots come with a warranty?"

Not that I know of, but they are made in Italy, good boots.

I do not think so. However, STP stands behind all of their products. If they don't fit or work for you, you can return them. It is a wonderful benefit.

I am not aware of a warranty, however, when the sole of one of my husband's boots came loose, STP exchanged the boots immediately and without
argument with free shipping. My husband loves these boots, and the replacement pair is holding up well.

Sierra Trading Post has a satisfaction Guarantee. It reads as follows - At Sierra Trading Post, we want you to be completely satisfied with your purchase. If you have any concerns about the item(s) you have received, please return the item(s) as soon as possible. We will make it right!

I've done some serious hikes with this particular boot and what I did notice was that the side band does not separate like my other brand cresta hikers always did. No doubt the best fit and rugged boots for the money.

Customer Service,

I have recycled the box and probably any paperwork that came with the boots. I kept everything for a while until I was sure of a satisfactory product. I wanted a lightweight, waterproof boot. After wearing the boots around the house and to our local State Park I took the boots on the trip they were intended for. Teton Boots in the Grand Tetons, Yellowstone, across Wyoming and over to Rapid City, South Dakota. The boots are back with me in Pennsylvania for now. They still have a little mud stain on the top from a pre dawn photo shoot at John Moulton's barn with 50 other photographers waiting for the sun to come up. They are very acceptable to me.

Just reviewed all the product tags and don't really see a specific warranty for the entire boot, but Sierra Trading Post has a very reasonable return/exchange/refund policy.
Goretex: "Guaranteed to keep you dry"
Vibram: 6 languages, but no warranty
AKU: Air 8000 description, diagrams, and graph - but no warranty

I wore these boots for a week long backpacking trip on the West Coast Trail of Vancouver Island in Sept. & they were perfect for me. I expect them to perform for years and many miles.

"A quick question. I've owned AKU's in the past and my last pair, the Suiterra Suede, was the perfect hybrid for long day hikes and backpacking with up to a 45 lb. pack.

I was wondering if someone could share a bit about the rigidity of the sole and if they felt it's enough for backpacking on rocky trails. I like a stiffer sole as I don't want to feel the rocks under my feet.

Thanks in advance for any information. "

My answer would be yes. I have two pairs of Suiterra boots, but just the low cut in the Teton (Sendera) boot. That boot is actually stiffer in the sole than the Suiterra. The Teton has a PU midsole instead of the EVA midsole. My son has the Teton boot and says they are quite stiff. You can check AKU's website. They are called Sendera on the website.

"Question, is the heal and tendon area of this boot well padded? Some boots are very hard at the lower back of the boot and they tend to irritate by bony heals. Thank you!"

The heel and tendon area are not very padded.

"Hi, I would like to order the AKU Teton Gore-Tex Hiking boot. My shoe size is between 10.5 and 11 (I own shoes of both sizes). Do these boots tend to run small, large, or true-to-size? In your opinion, which size should I order -- 10.5 or 11? Thank you! "

According to our fit models these boots are running true to size. I would recommend the size 11.