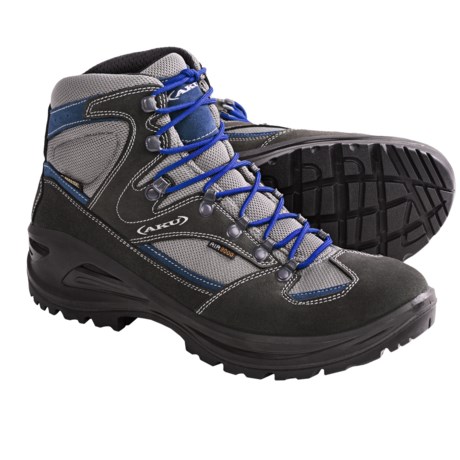 Not that I know of, but they are made in Italy, good boots.

I do not think so. However, STP stands behind all of their products. If they don't fit or work for you, you can return them. It is a wonderful benefit.

I am not aware of a warranty, however, when the sole of one of my husband's boots came loose, STP exchanged the boots immediately and without
argument with free shipping. My husband loves these boots, and the replacement pair is holding up well.

Sierra Trading Post has a satisfaction Guarantee. It reads as follows - At Sierra Trading Post, we want you to be completely satisfied with your purchase. If you have any concerns about the item(s) you have received, please return the item(s) as soon as possible. We will make it right!

I've done some serious hikes with this particular boot and what I did notice was that the side band does not separate like my other brand cresta hikers always did. No doubt the best fit and rugged boots for the money.

Customer Service,

I have recycled the box and probably any paperwork that came with the boots. I kept everything for a while until I was sure of a satisfactory product. I wanted a lightweight, waterproof boot. After wearing the boots around the house and to our local State Park I took the boots on the trip they were intended for. Teton Boots in the Grand Tetons, Yellowstone, across Wyoming and over to Rapid City, South Dakota. The boots are back with me in Pennsylvania for now. They still have a little mud stain on the top from a pre dawn photo shoot at John Moulton's barn with 50 other photographers waiting for the sun to come up. They are very acceptable to me.

Just reviewed all the product tags and don't really see a specific warranty for the entire boot, but Sierra Trading Post has a very reasonable return/exchange/refund policy.
Goretex: "Guaranteed to keep you dry"
Vibram: 6 languages, but no warranty
AKU: Air 8000 description, diagrams, and graph - but no warranty

I wore these boots for a week long backpacking trip on the West Coast Trail of Vancouver Island in Sept. & they were perfect for me. I expect them to perform for years and many miles.