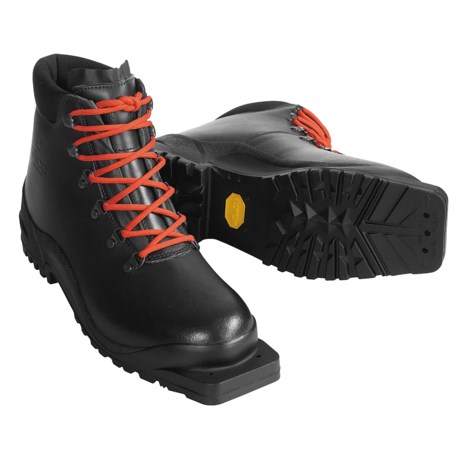 These boots use a "Telemark Norm" duckbill, which is thicker than a "Nordic Norm" duckbill. Both are 3-Pin 75mm and have the three pin holes in exactly the same place on the sole of the boot and the binding, but the Telemark Norm is built for use with larger and heavier boots and skis. Please note that the mounting holes for the bindings are not the same, so you would need to drill new holes in the skis if you wish to take off your Nordic Norm bindings and replace them with Telemark Norm bindings.||With a standard Nordic Norm binding, you may have to use the loosest setting with these boots. Some lightweight "racing" bindings may not have enough space (clearance) to accept these thicker Telemark Norm boots. If you get a Telemark Norm binding such as the Voile HD Mountaineer or the Rottefella Telemark, they will probably work with these boots on the middle setting. ||I hope that helps. |--

Some backcountry cross country ski boots are made for sturdier 3-pin Telemark Bindings. They are not backcountry cross country ski boots, but should be described as lightweight backcountry telemark boots. My Tele skis are made for Tele turns in the backcountry and the bindings are designed for a thicker soled boot that can stand the additional forces required to carve a tele turn. While a good pair of backcountry cross country ski boots will fit 3-pin Telemark bindings, a boot designed for Telemark bindings will not fit Nordic Norm 3-pin bindings.

All 3-pin 75mm bindings are pretty much the same, but you are right, these boots will not fit into 75mm bindings even though they are supposed to. I had to send a pair back.

They will not work in vintage X ctry bindings. Sole is too thick for binding to lock down. You will damage binding. I tried it. The 3 pins and width are OK, just too thick.