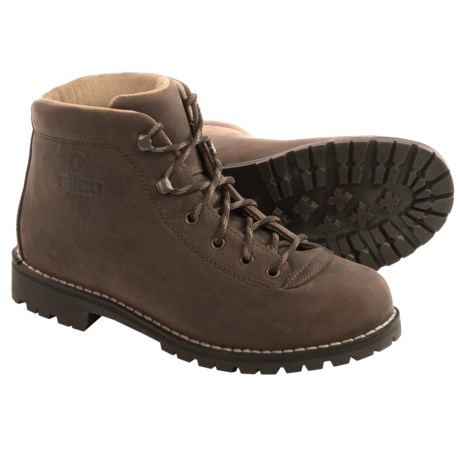 Your question seems to focus on the durability of the boot. The construction is lighter than the Tahoe and Summit boots I currently own. I am not sure what you mean by "corrected" grain thin but surmise that the "grain thin" is the operative concern. I've not worn them long enough or used them in harsh/challenging settings to comment on the ruggedness. But, if the quality of the other boots is an example of the care and attention to detail and design Alico applies then I expect to receive years of reliable service. So, is that clear as mud? I suppose that my answer is predicated on what your end use will be and not knowing that I can only base my response on my rather beneign use thus far.

I am the guy asking the original question :). Thanks for the fast response!

Corrected Grain leather is usually found on cheaper shoes and is the lesser quality leather that has been ground down to be uniform but the grinding takes a lot of the strength from the hide, it is usually quite thin. "Full Grain" leather is the original thickness and is much stronger. The other Alico boots have "Full Grain Leather" in their specs but the Belluno just says "Leather".


I plan to wear these boots hiking in Michigan and Canada. No mountain climbing, just on-trail and some off-trail hiking through the forests. I have been wearing Vasque Sundowners for the past 15 years and they suit me well but I don't like the GoreTex at all.

Could you please comment on how these work with a 30 pound pack, 10 miles a day on uneven dirt paths?

The Alico Belluno color descriptions: "Light Brown/Full Grain Leather (03)" and "Brown/Greased Nubuck (01)" indicate that the lighter colored model may employ a Full Grain leather similar to the other Alico's. I can only speak about the darker model which I own, and in comparison to the Alico Tahoe which I also own: the Belluno leather does seem as if it may be a Top- or Corrected- rather than Full-Grain leather, as it is quite uniform in appearance, does not seem to be developing "character" with use, and generally doesn't have the rich, supple aesthetic quality of the Tahoe leather. This would be consistent with the Nubuck description. On the other hand it doesn't seem "thin" or otherwise lacking in durability and functionality.


"Could you please comment on how these work with a 30 pound pack, 10 miles a day on uneven dirt paths?"

I think they will hold up fine, but you will definitely want to swap in high-quality insoles such as the SOLE Signature Ed Viesturs Ultra Footbeds. The Tahoes would seem to be a better choice, however.

Thank you for describing "corrected leather" uppers which is a new term for me.
I do not know if the Belluno has ordinary full or top grain leather or if it is a processed leather as you describe, but if it is "corrected" it is very good in initial feel and quality and seems to be wearing in well and aging as a I expect top grain to age. First impression on taking these out of the box is that they are top grain, especially the light brown with its visible grain with nothing to obscure natural leather imperfections and variation. The dark brown leather seems similarly high quality but the top layer with its dark dye seems to have more of a processed top layer than the light brown. I've worn both day after day in recent months--enough to see them break in, crease, take on wear, and both colors seem to be wearing in like I expect top grain to break in. I think it's quite possible the light brown and dark brown are a different leather finish--each of the three Belluno colors have a different color Vibram sole too so it's perhaps not unlikely Alico would have three different types of upper too.
So far I would say that the light and dark brown uppers are either top grain or that "corrected" grain leather is better, stronger, and more natural looking than I would have expected from the description. Your question alerts me to observe this carefully as they age. I also have the Tahoe and Summit so will be able to compare a little.
One bit of information that may apply to your question is that these Bellunos, unlike the Tahoe and Summit, are Anphibio uppers which is a specific commercial process applied to the leather surface. More info about Anphibio treatment might tell us whether this process is for top grain or for corrected grain.