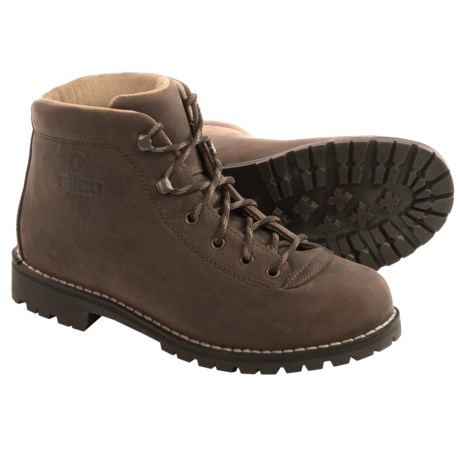 The outer is the easier of the two questions. The leather is a "smooth" surface, not the rough leather of some split-grain leathers. As for the sole, I own both a pair of Tahoes and Hikers and I did not think either had EVA mid-soles; the both appear to be leather with the Tahoe slightly more substantial.

Thank you flatlander

I'm the original asker. It seems like from your answer that neither version is rough-out. That would have been a nice plus but its not a deal-breaker for me. It doesn't seem like Alico makes any rough out uppers so that makes sense. I hope someone can confirm the construction of the midsole. The Tahoe is listed as having an EVA midsole but I wonder if thats a misprint and it refers instead to the insole which would make more sense. It seems strange to put a flimsy layer of EVA onto a boot of this type. Would a couple mm of EVA foam even serve a purpose between a traditional outsole and the upper?

Can't speak to the midsole material. Overall the max thickness of the Tahoe mid- and outer-sole layers together is about 1/2", and the leather upper nearly 1/8" thick, while the Belluno measures about 3/8" and 1/16", respectively. The removable insole of the Tahoe is constructed of a fabric sock facing, a very thin high-density foam layer, and a thin, full-length EVA(?) bottom layer, with a high-density foam heel cushion inset; the Belluno's has a fabric sock facing, a thin high-density foam layer, and a half-length EVA(?) bottom layer, so relatively little cushioning and support in the arch to toe area. While I think it will be necessary to replace or supplement the Belluno with a better insole, even with its heavier duty construction I eventually decided to improve the Tahoe insole support as well.

The darker color Belluno is "Greased Nubuck":

"Nubuck is top-grain cattle leather that has been sanded or buffed on the grain side, or outside, to give a slight nap of short protein fibers, producing a velvet-like surface. It is resistant to wear, and may be white or coloured."

The "greased" treatment results in a soft matte waxed or oiled look/feel, seemingly a little more impervious to the elements and wear than untreated full-grain leather, but of course not as "natural" looking/feeling.



The EVA midsole is most visible in the light brown Belluno where the EVA is a cream color in between the brown Vibram sole and the brown leather welt. On the dark brown and brown greased nubuck Bellunos, this EVA is a black/brown color so is less visible in between the darker Vibram sole and dark brown welt.
EVA can be manufactured to a range of density and it's credible to me this thin layer might be EVA of an appropriately dense variety to match the support you want in a hiking boot. Skepticism about whether it's EVA expressed here may result from familiarity with the typical soft, cushy, EVA in most running shoes.
(The included insole has been very comfortable and supportive for me and is better than the usual shaped foam insole you get included with sport shoes. Others have said they find it inadequate and will switch to a high end aftermarket insole but this insole is good enough I'm in no hurry to upgrade.)
The light and brown versions appear to be full or top grain leather and have a very nice texture with smooth side out. The greased nubuck version is not the very thick rough out full grain you find in heavier hiking mountaineering boots in my rotation--Asolo Yukon as well as old Pivetta, Fabiano, Galibier, Vasque. Even so the nubuck feels plenty thick and dense appropriate to this light hiking boot. Because it is termed nubuck, I assumed as pointed out in the other answer that this is not a reversed hide like rough out but is a textured version of a smooth side out.
The smooth side out versions have been durable after months of wear in snow and wet and appear to be aging like good quality top grain leather.