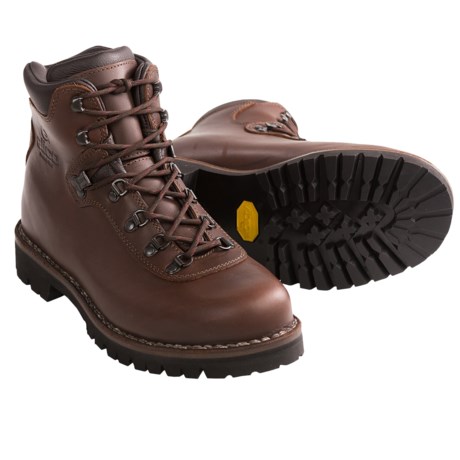 Hard to find all leather Norwegian Welt boots at an incredible price
Reviewed by Erich from Woodbury CT on Friday, March 8, 2013
I've been a hiker and backpacker from the cub scouts, through the last 30+ years.
In all that time, and all those boots I've always found the best ones overall, were the solid leather ones.
Yes they are a bit heavier that the modern lightweight styles and materials, ranging from 1-2 pounds more in some cases, but the benefits are worth it.
They conform to your feet, are the most comfortable, usually have great ankle support, last one heck of a lot longer, and can be near waterproof with the right treatments.
This boot hits all the right spots.
I had been a fan of leather Merrells for many years, but over time they wore out and the sides pulled away from the leather on the last pair I owned. The next few pairs I bought were the lighter sneaker style, in mixed fabrics, and fit more or less, but I still found every 3 years or so they would just give out on me.
Enough is enough with buying a new pair so often I thought, and as I was familiar with resoling my Chippewa dress boots, I thought to look for the same in a hiking boot.
Locating a norwegian welted pair is not easy, and frankly the search functions here on STP are pretty poor.
I had settled on a pair of Danner Mountain Light 2s, though I considered the Merrell Wilderness, and Vasque Sundowner models as well.
They fit well enough, but the leather seemed a bit thin, and the ankle support, contrary to half the reviews, was pretty much non-existant.

By sheer chance I happened to see these Alico boots while browsing around, and it had every facet in a boot I had wanted.
After using them for a month now I can see the abundant reviews were all spot on.
The italian leather and craftsmanship is definately quality (unlike the Vasque sundowner now made in China,) and felt wonderful though a bit stiff at first,.
It softened over time as it broke in and even more when I applied the Obenoeufs Leather conditioner (which also bumped up the water resistance.)
I have two complaints for which I've rated these at 4 star rather than the 4.5 I wished was available.

One, is that others have noted the footbed leaves much to be desired.
Had I realized they also had Green SuperFeet here at STP I would have ordered some alongside the boots.
But I hadn't until after the fact, and picked up a pair of Sole Softec Response insoles from a local dealer, which are awesome.

My second complaint is that in this month I now have some badly worn shoelaces, that look to last not much longer.
This is not much of an issue as I had been wanting to get more colorful laces anyway.
The ones they come with are a deep brown with flecks of red and green, but too dark for my tastes.
I bought 100 ft of 550 paracord (4mm) in Goldenrod color (not quite yellow, not quite orange) with reflective threads.
After cutting them to 60" lengths and sealing the ends, they look incredible and I expect will last me much longer as well than those it came with.

Overall I cannot say enough about these boots. I fully expect that so long as I retreat with the Obenauf's LP every 4 months or so, I may finally have a boot that I can wear down to the soles, before the rest of it breaks down, and can last me a decade.
Throw in a STP coupon with free shipping, and this is a boot that can't be beat.

FYI I fit in a size 11 shoe and 10.5 in most boots, and sized the same (10.5) with these. Even with the changed insoles I have toe wiggle room without too much.
Similar items and more information in the following areas: