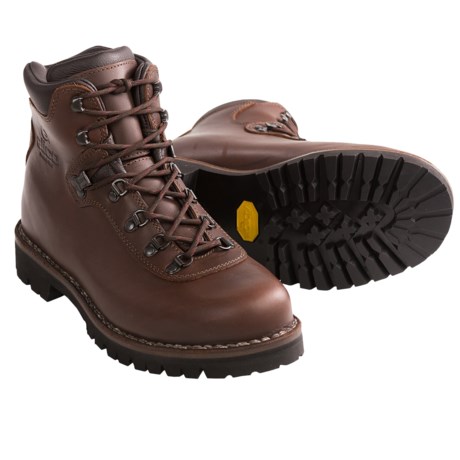 go back in time to the days of all leather and stitched great looking hiking
Reviewed by johnnyjohnny from lake balboa california on Friday, November 7, 2014
i unfortunately believed the numerous reviews stating these ran large, and changed my order from a size 12 us (46 euro) to an 11.5 us...sierratradingpost said if i had a problem i could get a free exchange...which was needed the moment in tried them on.

so then, getting the 12 us i, unfortunately again, found a problem all to common with online orders, one shoe larger than the other. i've found this with online orders on all the major websites with such diverse brands as the extreme high end cowboy boot Lucchese, to Dan Post cowboy boots, and now to the great Italian hiking boot maker Alico. the left was a half-size smaller than the right...really bad as my left foot is in fact a half size LARGER than my right foot...and the 12 us was predicated on that.

ok, all this prereview stuff that YOU may run into as i did, over, i'll say sierratradingpost 2-day sent the second replacement at no cost, and agreed to have the replacement checked by staff before sending. third time was a charm as they say, and this Alico Summit was correct.

NOW, to the boot. i must say it surpassed my expectations, given that my expectations were in fact pretty high given the gorgeous pictures and stellar reviews of the craftsmanship. again, the sizing is SMACK on to what the euro OR u.s. sizing should be...as an example it is completely the same as Timberland and Hanwag, so hopefully that helps if you have those sizes.

i will admit i'm an urban hike and pretty much a poser. i DO hike as a photographer who shoots at night on rough urban sidewalks, as well as in rough natural environs...beaches, hillsides, torn up urban wastelands, inner city treks, everywhere. up to 5 hours at a time. but beyond that, i like wearing cool retro (actually from another era in the case of this boot) in my normal life. going to the post office and such.

from the reviews i expected some boot Clint Eastwood might have used to climb the Eiger. and he might have used these from the way they're built. but these are surprisingly comfortable and normal feeling for a mountaineering boot. they are indeed STIFF...but as that loosens and conforms to your foot upon walking/wearing, they feel oddly somewhat like really normal leather shoes. i attribute that to the fact these ARE leather, and NOT the nowadays leather upon multi-interior materials that make your feet feel like you are wearing a sleeping bag on your feet.

i am such a poser, wearing these to the movies under jeans, to the post office, whole foods shopping, etc, and being in L.A., i end up driving in these. not a stick with a clutch, but still, these are actually very tactile and unclunky enough to drive mulholland and laurel, as well as coldwater, canyons comfortably. they are not ferrari driving slippers, but a massive hiking boot you can take the canyons in, is not the clunky frankenstein boot some reviews claim.

while i have not trekked up any mountainsides in these yet, they feel very easy on the feet, not bulky, and not lacking cushion on concrete. sitting watching a movie they were expectedly stiff around the ankle as they are not broken in, but the boot itself, still stiff, felt great just sitting on my foot.

most people reviewing these are bona fide hikers, and have testified to the heritage of these in strong hiking conditions. wearing these i have no doubt they'd hold up to hiking through the Apocalypse. my review may allay rears of how frankensteinian or bulky and clodhopperish these might be out of the box. i'd say these feel as beautiful as they look...though expectedly stiff until some walking and wearing have conformed the leather to your feet.

these are amazing boots, the craftsmanship and classic look WITHOUT those infernal molded soles glued to a leather upper, but rather beautifully stitched vibram soles attached to a gorgeously crafted full one-piece leather upper. these are closeouts so i assume, despite still being on the Alico website, are on their way out in the future. rather than seeking old classic style boots on ebay, that have been worn, i'd suggest doing as i did, get your piece of history new here. i waited until sierra had the coupon discount that was pretty good, but i also didn't want to have my size sell out...i did get a great deal and i couldn't be happier.
Similar items and more information in the following areas: