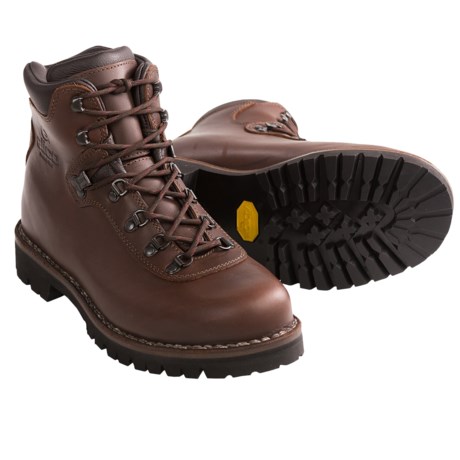 Can't wait to get 'em broken in!!
Reviewed by Semi-Retired-Jack-of-all-Trades from Kodiak Island, Alaska on Saturday, December 26, 2015
Just got these for Christmas (Santa ROCKS!!). Tried them on and was momentarily nervous--they seemed hard, stiff, unfriendly. Once my feet warmed them up, though, they started returning the gesture and after an hour, I decided they could stay on my feet. I went on a short, 2-mile hike, and while my feet hurt, mostly around the ankles where the top of the boot rubbed, I've had worse things happen. These are good, old-fashioned, leather-lined, no frills waffle-stompers. They're old school, and my last pair of American-made Herman Survivors(R.I.P. 30 years ago) were remarkably similar to these. They took some time to wear in as well... Anyhow, the leather on these is top-notch, the stitching is solid, and they're gorgeous! No fancy-schmancy doodles on the side, no exotic molded sole to delaminate (like my recently-deceased A$olos). I wore them again today and the toe box seemed to be a little roomier than yesterday. Happy toes! We'll be breaking each other in for a few miles, but I can already tell these are tough, sturdy, take-me-where-I-wanna-go boots. It's good to get back to basics!
Similar items and more information in the following areas: