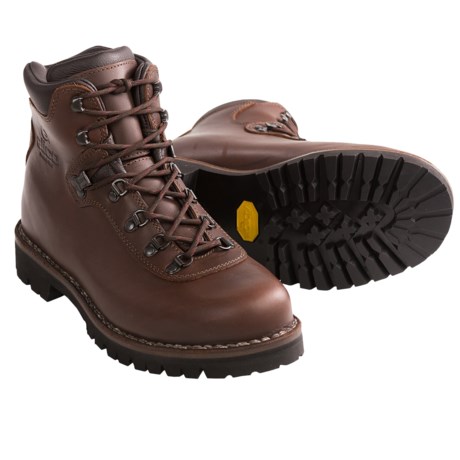 Pretty nice boots.
Reviewed by Liam62 from Oklahoma on Sunday, January 3, 2016
I must first qualify my situation. I am in my 60's and do not intend to put these boots through what I put my boots through 20 years ago. I will be doing some light trail hiking in them at most. They are so nice looking I very much doubt I will be stomping around in mud or muck. Even so, I think these boots would hold up well to that kind of use.

I am old school. I like the soles of my footwear sewed, nailed and glued; I like heavy leather. I bought a pair of Vasque hiking/backpacking boots waaay back in the 1970,s....you know, before Vasque sold out and began manufacturing junk. I left those boots at my parents house for 30 years. I had forgotten they were there. I found them in their attic. They looked as pristine as they were when I left them there. Every stitch in place....etc. They were as hard as a rock because they had dried out, but I'll bet I could have wet them, oiled them and they would have been as good as new.

I believe these boots are made as well as those Vasque boots I bought so long ago.

The fit is correct. My right boot fit perfectly with a sock liner and heavy weight Wigwam merino wool hiking sock. No slip, just a perfect, snug comfy fit. My left boot fit as well, except I had some slip on the heel. Not bad, but certainly enough to create a very nice sized blister. I bought some moleskin at Walmart and used it on both my left and right heel for the purpose of breaking the boots in. I use the moleskin, liner sock and heavy weight Wigwam merino socks and I looked online to find a method of lacing the boots that would lock my heels into place to stop the slipping. I also lace my boots up tight, not painful tight, but tight. When my feet get tired, I take them off.

I have been wearing them around the house. Nothing serious at this point. I was not and am not in any hurry to take them on a hike. I bought these boots in mid November and it is now Jan 3, 2016. With Thanksgiving, Christmas and the New Year on me, I have not worn them as I had intended. I put them on today to pick up where I left off on the breaking in process. I am still in no hurry to get them out on a trail. I will make absolutely positive/sure that they are well conformed to my feet and the creases are all in the right places before I do that; with no slipping, etc on my heels.

I very much like the boots and I think they will last a long time. I live in Oklahoma; the winter months in this part of Oklahoma are wet and muddy. Although I could do it, with zero problems, I will not wear these boots into the woods or on trails in Oklahoma winter weather. Muck boots are better suited for Oklahoma winter weather.

At any rate, I am happy with the boots. I got a very good deal from STP on these. I would like to have a pair of Tahoe's as well, as a blue jean/Dockers boot, but Santa Claus is broke. I'll have to wait until STP offers me an extra 40% off to buy those, if STP ever does that.

Hope this helps.

Here is a little information that might help someone. About 13 years ago, I bought my wife a pair of Vasque leather hiking boots, the top end in leather hiking boots made by Vasque. Like me, she is not hard on her footwear. She wore them a max of four times, and she used them very lightly when she wore them.

When I started looking at hiking boots for myself, I asked her how her boots were doing. She told me that they were still new. She had only worn them four times. After I received these boots from STP and saw how really nice they are, I asked her to check her boots again because the Summits are so nice I did not want to pass up the opportunity to buy her a pair if she needed them.

She pulled her boots out of her closet and discovered that the soles on her boots had come unglued and were cracked. Junk...unusable after wearing them only four times. I am hoping that someone continues manufacturing boots with sewed, nailed and glued on soles, with heavy leather. Too bad they cost so much. Thanks to STP for providing us with the opportunity to own a pair of very nice boots....as well as a lot of other things...at prices that average people can afford to pay.
Similar items and more information in the following areas: