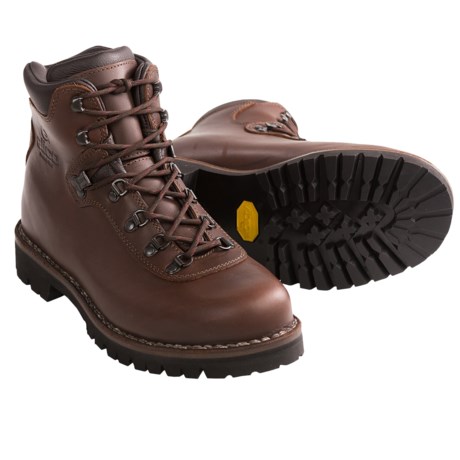 A great boot with bad insoles
Reviewed by Christopher from Greater Colorado on Thursday, March 31, 2016
...at least my feet had real problems with the insoles. In essense, the insoles are thin, soft rubber over coated with what might be very thin leather. When in the boot, I didn't even know the insoles were in place. (In fact, I didn't believe insoles were present at all.) The OEM insoles are so thin no support/impact absorbtion is provided.

So, because I love the construction of the boots - I had to do some Class 2 hiking with short Class 3 climbing - I ordered new insoles. After much research and more than a little trepidation that was somehow going to screw up the boots, or my feet, I bought a pair of Sole EV Altras. These insoles were designed in cooperation with Ed Viesturs specifically for use in hiking/mountiianeering/ski boots. After some trimming, oven molding, and general screwing around, they work!

Other than the insoles, these boots are terrific. They provide incredible support at the ankle, and they wrap my foot in a warm leather glove that is tough as nails. The soles are just what you would expect on a pair of serious hiking boots. The lacing system allows the wearer to customize the boots' grip on the foot. The boots' tongues are actually adjustable independent of the lacing system. (The tongue is affixed to the outer boot using a very tough piece of velcro. ) While this feature seems superfluous, I love it - I can exactly adjust how the tongue grips my shin to create the best support and comfort.

In the end, buy these boots knowing your gonna stack another $50 on solid insoles. However, the endroduct will last for years and serve you very well.
Similar items and more information in the following areas: