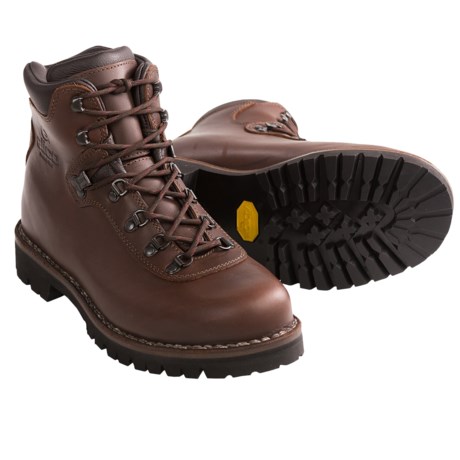 Classic design ...
Verified Buyer
Reviewed by James from British Columbia, Canada on Wednesday, November 16, 2016
Before the dawn of the Gortex, you bought mountaineering boots based on good solid construction cues:
1) a leather boot with minimum of seams. Certainly none for decoration only, because seams are where water can leak in. In good boots there is only one up the back.
2) strong metal eyelets and double rivets in the upper ones.
3) a Vibram sole. They are still the best and have been since the 70's.
4) a Norwegian welt double stitching attaching the sole to the upper. No rubber here!
5) a steel or other stiff shank, that gives the sole rigidity for side cutting slippery slopes and confidence in bushwacking.

Other than the steel shank, these boots have all the features of a good hiking/mountaineering boot. Note that there is no mention of Gortex. (Gortex! .... get a rope!) Think about it folks, why pay for Gortex underneath a full grain leather? It is unnecessary, you still have to treat the leather, and when you do it makes it water proof and the Gortex is wasted.

This style of boot is coming back because it is a construction that works and lasts much longer than rubber and glued soles. I put these on over my standard two socks, one light and slippy and one woolly, and they were super comfortable on the first day out. Time will tell, but I like this boot, it looks and feels great and I would recommend it to anyone.

Similar items and more information in the following areas: