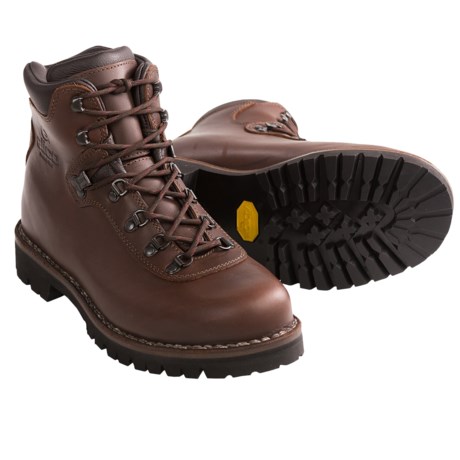 Don't believe the hype...
Verified Buyer
Reviewed by Opuseti from Vancouver on Wednesday, April 4, 2018
I waited a while before entering this review. I wanted to put these boots through their paces. I should probably start with a bit of context. I am 6'4" and weigh in at almost 300 lbs. I am tough on my equipment and expect it to keep up with me. I am also a sucker for sticking with what works. For me, all leather boots are the way to go. Over the years I have worn through the all leather (no goretex) offerings from a variety of companies including Scarpa and Zamberlan. I also have a pair of Alico New Guides that have proven themselves to be excellent, but very heavy oldschool boots.

So, onto a review of these summit's. Out of the box and onto the feet and they feel like slippers. The leather is VERY soft and the toe box is very roomy. It is quite evident that the last used in these summits is different from the new guides. These are wider in the forefoot and toe box and less aggressive in the positioning they put you in when walking. The summits are comfy to wear around and the break in is minimal to non-existent. In this sense they were a dream compared to my New Guides which almost broke my spirit during the break in period. With the Summits I was able to do a longer hike (15 miles) after only wearing them for a couple of short day hikes. I wore a 30 lb pack for the longer hike and the softness of the boot (leather and sole) really became apparent. First thing I noticed was the flexing in the sole. Compared to the New Guide's with their 3/4 steel shank, these summits provide much more feel under your feet. Much easier to navigate across rocks in a stream and over and along fallen trees. As a con, feeling the trail can fatigue your feet. There also is no "rocker" in the soles. Some higher end backpacking boots have this feature so that your toes are slightly angled up and the sole allows you to have a natural rolling gait that reduces fatigue. These are simple flat soles. The softness of the leather was also apparent and in the one case where I ended up losing traction and sliding, my foot didn't feel as secure as I would have liked with the give of the leather.

Ankle support is good and the tread offers decent traction. It's an old tried and trued lug pattern that I have found better on the up hill than down and only moderate in thick mud. The self cleaning of this tread pattern is okay but newer patterns are better. The leather is scuffing easily but that just adds character. The insoles are garbage but that is the case with most boots these days. I swapped it out almost immediately.

Overall I have to admit that I'm disappointed. There are plenty of reviews hear on STP claiming these to be awesome boots. They just aren't. Yes you can resole them, yes they are all leather inside and out, but what about performance? It just isn't there. These are light hikers and not backpacking boots. They are okay for a walk in the woods but certainly not in the same class as the leading backpacking boots out there and I would not depend on them for any technical backpacking or scrambling. I will also write a review for my New Guides as they, on the other hand, have exceeded my expectations..
Similar items and more information in the following areas: