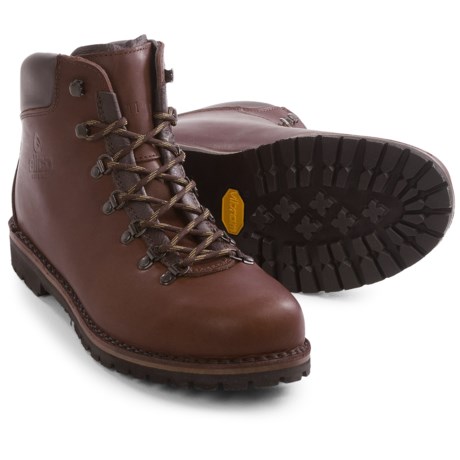 I returned mine
Reviewed by BIGFOOT from Boston on Saturday, April 3, 2010
Ok, I returned the Tahoes. I didn't like: a) the flat sole - no rocker... Hard to "launch" off and b) too small. I read about how they are true to size...so I bought my street shoe size...well maybe they are TTS if you don't use a thick hiking sock...but why wouldn't you? Quality is just so so, IMHO - they are a bit crude. (I have owned many boots including a pair of "glued" Alicos sold under the EMS brand name which were decent but are now worn out. I also own 6 or 7 pair of boots from light hikers to double plastic mountaineering boots.)
Well, anyway, I ended up exchanging the Tahoes for a pair of Alico Guides - 1/2 size larger than my street shoe size as I plan on wearing them with a heavy wool sock with a polypro liner. (You can not successfully wear real boots with thin socks for hiking for any length of time)
The Guides are a much better boot which DOES have a rocker and they are leather both inside and out...Aaahhhh..., just like my LaSportiva Makalus! I found the Guides to be more comfortable and I haven't notice the extra weight so far. Overall, I give the Guides a B for quality but for the price I paid they get an A for value.
TO sum up, the Tahoes are probably ok to kick around in but the Guides, for a bit more money, are a better deal, again IMHO.
So that's my 2 cents.
A NOTE: I have read many of the reviews for the entire Alico line-up that STP sells. Many have complained about the stiffness and the heavy weight. These guides started to break in after the first few minutes of wear. When you read these reviews, consider the source, read between the lines. Many of these folks have probably never owned a real pair of boots before and, yes, they will be stiffer than their Nikes or some wimpy sneaker-based boots sold these days. Either that's ok or it isn't.
Best Uses: Everyday
Cons: Uncomfortable
Describe Yourself: Casual/ Recreational
Pros: Ankle Support, Sturdy/Durable
Sizing: Feels half size too small
Width: True to size
Similar items and more information in the following areas: