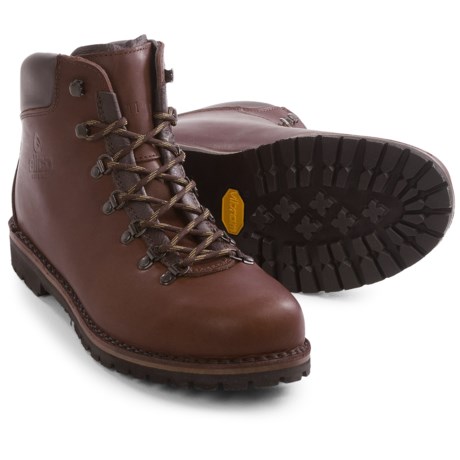 A well made boot.
Reviewed by Relaxing on the deck from Maine on Friday, May 3, 2013
I believe this boot will last a light-weight hiker like me for many years. That said, I believe it will also take the entire Summer to break them in, as stiff as they are. They appear to be built in a very solid manner with quality products (with the exception of the removable foot pad, which is as cheap as I've ever seen). Add a replacement pad to the total price of the boots and they're still a very fine deal.
The fit for me was perfect. I wear a 12 D-E, depending on the shoe, and the 12 D in these feels excellent.
With the quality, comes some extra weight in these boots. I don't see it as anything but a way to get a little more exercise, but some experienced hikers may find them cumbersome over the course of a day. I am guessing each boot outweighs my previous Asian made, glued together boots by a half pound apiece. Wade through a stream and you can probably double that!
The bottom line for me is that I'm not as willing as I once was to purchase throw away items. I'm finding it cost prohibitive to purchase a quality product and have it reconditioned when it's time. I wish I had learned that earlier in life.
Having only worn them once, that's all I know.
Similar items and more information in the following areas: