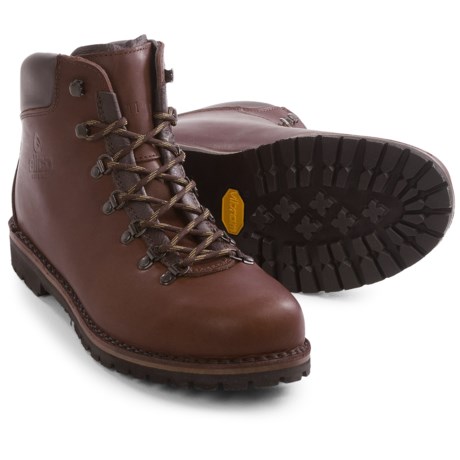 Excellent boot!
Reviewed by Doug from Seattle on Tuesday, July 30, 2013
If you are reading this review, no doubt you have looked at the Asolo FSN 95 boots that have a ton of good reveiws. The whole reason I had to buy new boots is because my previous pair of Asolo boots just fell apart while I was in the backcountry. I had done half of my hike in the dark, then camped, and was about to head to the destination the next morning when I noticed that my soles on both boots were completely coming off. Long story short, I had to bail on the whole trip! Granted, I had these boots for about 10 years, but I thought it odd that they came apart like that one the same day at the same time. No, I did not expose them to fire or heat. I then went on to buy the FSN 95s and actually made the purchase. Then I checked reviews on Amazon for the same boots and there are several reviews with the same thing that happened to me, in some cases on rather new boots. Soles falling off! I decided then and there that I am done with glued on soles.

Now come the Alicos. There were several things I was looking for. 1. Not made in China or any third world country, 2. Full grain leather, 3. Norweigan double welt soles that could be replaced (and not come unglued!), 4. Goretex if I could find it. I did find some Chamberlans that fit this description exactly, but I did not want to spend over $400 that was being asked. I decided to scrap the Goretex lining thinking that I could waterproof them myself. These Alico boots fit the bill.

I have pretty normal feet for a guy who is 6' 1" and 160 lbs. Not too wide, not too narrow, normal arches. My impression of the Alicos is that they are roomy. I won't say they run large, but I just feel like I have plenty of room. If you like a more snug boot, get a thicker insole. I consider them to be lightweight full grain leather boots. (In comparison to the Vasque Montana...) They are very comfortable right out of the box. Admittedly, at this point I have only worn them around town and will be testing them this weekend on a pretty gnarly hike. I can tell that they will work fine with minimal breakin required. I expect these boots to last many years with more than one sole replacement.

As a side note, some people have complained about the D-ring shoelace eyelets. If you have problems with your boot staying tight, you are probably lacing them up the wrong way. I find it best to lace these eyelets FROM THE TOP. Come in through the top, out the bottom of the eyelet, and then go to the next one again entering it from the top. This makes it so that when you pull down on the laces to tighten them, it puts pressure on the eyelet and holds the lace in place without slipping. This way I can have the laces tight on the arch, but loose around the ankle.

Lastly, after doing some research i decided to waterproof my boots with pure beeswax. They are almost black in color now, but have a bombproof waterproof layer. One full Seattle winter ought to be a good test. I will enter a new review in about 6 months. Happy hiking!
Similar items and more information in the following areas: