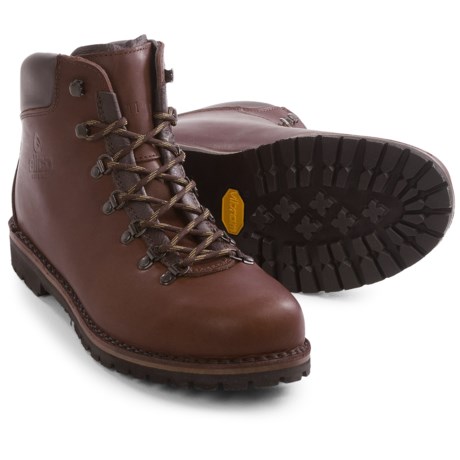 Boots...or works of art?
Reviewed by Coughing Soul from São Paulo, Brazil on Thursday, October 3, 2013
OK, so maybe that's pushing it, but in our "Made in China" modern times, these boots are truly examples of how boot-making can (and should) be done. The product description cites "a small factory of artisans" produces these boots - and I believe it. The leather is sumptuous and unbelievably thick and the stitch-work is simply perfect - the artisans that put these together must be proud artisans, indeed. Based on the materials and workmanship, I can't imagine that these will last any less than 10 years, with minimum attention given to conditioning the leather - they're that impressive. How can they turn a profit at this price?

I've yet to wear these boots on a hike (I live in São Paulo, Brazil, after all), but they have proven to be stalwart companions during our mildly cold but rainy winter here. They look great with a pair of boot-cut jeans...so good, in fact, that I'm debating if I'll ever wear them hiking at all! That said, they are extremely supportive and are more comfortable than their ruggedly spartan looks imply, and based on other reviewers from hikers, I'm sure they're as good in the scree as they are on the street. Full disclosure, however - I would not consider wearing these boots without upgrading the insole as the mid-sole/insole combination of the Tahoes does not provide underfoot support - they're as flat as a pancake. I chose the Sole Signature EV Ultra which I rate as highly as these boots. Birkenstock-like arch support and excellent cushioning.

Back to the boots - if you're considering ordering a pair, either for hiking or casual wear, do so. You'll be impressed!
Similar items and more information in the following areas: