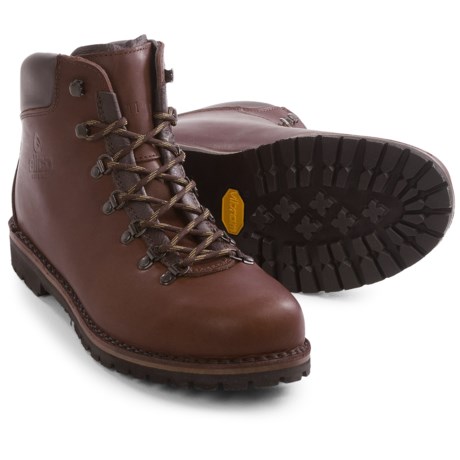 Alico Tahoe Hiking Boots
Reviewed by Pete Ricci from Texas on Tuesday, December 16, 2014
I had a pair of Asolo 520 hiking boots for about 10 years, I hiked the Appalachian Trail,Colorado, Grand Canyon and the Wind Rivers in Wyoming. I like these boots alot, comfortable and good support.
Two years ago doing a 37 mile loop in the Winds, about mid-way the laminate on my left boot was blowing out and eventually the whole sole came off. The heel on my right boot was starting to separate. Luckly I had a pair of crocs for around camp, I've taken the insert out of the blown boot and put into the croc. A little slippery in muddy sections but worked out alright and was able to get to the trailhead. If I didn't have my crocs I'd be in trouble, the trails were way too rugged for any footwear lighter than sneakers.

In buying another boot I wondered if boots made with the Norweigen stitching existed any more. My confidence in glued on soles had dipped a bit. Low and behold, STP had these Italian made Alico boots so I decided to try them.

When I received them, the size I ordered were true to size. They are a beautifilly made boot, eyeing the stiching around the sole brings back the days when all your mid-weight boots were Norweigen stiching. I've replaced the inserts with the high volume Superfeet inserts and since hiked about 25 miles. They're a little stiff out of the box but comfortable, no one spot causing any irritation.

I plan an upcoming trip in Aug-Sept. of 2015 on the John Muir Trail and the Alico's will be my boot of choice. I will give part two of this review on these boots. So far I give these a four star.
Similar items and more information in the following areas: