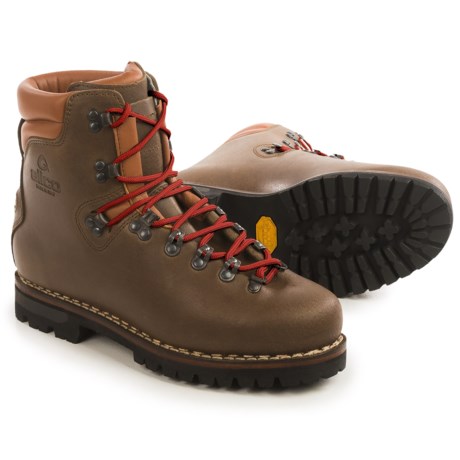 Massive boot for massive tasks.
Reviewed by Owen from Nevada/Alaska on Thursday, May 9, 2013
I always forget to write reviews, but for these I will. I have the Alico Summits, to, and after 1,000+ rocky Nevada miles over 7 ears, they fit like slippers and I am considering getting them resoled and fresh stitches.

Four stars only because they really are not for everyone.

I had the Guides bought for me for a 6 month research expedition in Kodiak, Alaska. I used them for 8 or more miles each day, kicking steps into scree and rock on steep slopes in constant rain whilst looking for nests of Kittletz's Murrelets. I also walked through miles of mucky bogs and soggy tundra with very heavy packs. In all, they took about 600+ miles that season. They still have hundreds of miles left in them, if not more. I need to resole them, because the vibram is very rounded from the rocks. The boots of my crewmates (an Asolo heavy hiking boot...forget the model, and Scarpa Charmoz) were unserviceable after the same abuse. Their waterproofness was great for a long time...very good. But i mistakenly put mink oil and other products for full grain leather on them, and it killed the Perwanger leather for waterproofness. Get the silicone stuff made for them mentioned in the other long review. These were hard to keep warm with my feet and lots of socks while hnting caribou on the North Slope...not meant for winter really, unless it's mild (above 20defF). When soaked and wet, each boot is about 4 pounds or so. Pretend you're skiing.

The bottom line is that these are incredibly sturdy boots of a very high quality. They are called the Guide, I have come to realize, because you almost have to be a guide (doing gnarly stuff EVERY day) for them to make sense for you to own.

Tips if you buy these:
-Have a good reason to go with such a heavy boot. Construction, trailwork, heavy/daily hiking/mountaineering tasks.
-Give yourself a few weeks of daily mellow use to break them in. Wear good socks whilst doing so. I didn't have time to break them in, and regret it.
-Get some real insoles. Superfeet or better yet Sole.
-Order a size that will allow for a sturdy insole and some thick socks.
-Be aware of creasing patterns as the tongue gets situated. The tongue hardly responds to lace tightening when new, but eventually will. Make sure the fold is even on both sides as they begin to soften.
-They may pinch/rub the tops of your toes as they fold, but just tough-up and get through it. Won't be forever.
-Get a pair of spring-loaded shoe horns or shoe trees to keep in these guns when it's off-season.
-Prepare for a lifetime of use, and ridicule from folks using super light boots made of light materials. Their jeering might be right...this boot might be overkill for what you do. I think you know if you are the type of person who needs such a heavy and rock solid boot. These things are not for trail hiking hikers or daytrotters. If you want these just for their looks, they will probably destroy you.

I wish I could go and tell the bootmakers in Italy who make these things all the times I've had while laced into these incredible pieces of craftsmanship.
Similar items and more information in the following areas: