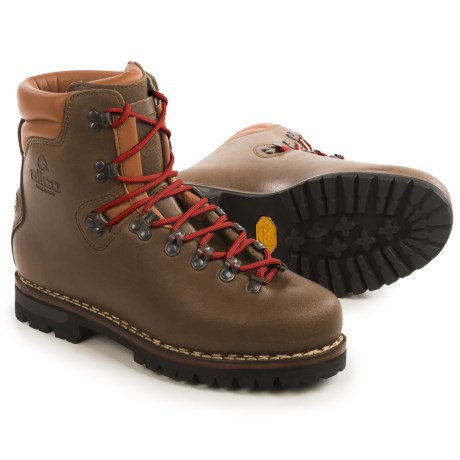 Not the experience I expected given the rave reviews
Reviewed by BOOB from WISCONSIN on Friday, June 21, 2013
Here's what I had to say at traispace:

THE FIRST REVIEW I MADE FOR ALICO GUIDES

Fit: I normally wear an 8.5EE but ordered a size 9 EE, seems like I made the right choice.

Comfort: Knowing how stiff the boots were I taped my heals before wearing them. I still received a little blistering but nothing too bad. It was only after the boots got thoroughly soaked in the woods that they softened up/molded to my feet that I no longer needed to tape my feet. Maybe soaking your boots and wearing them dry as some suggest isn't a bad idea. The boots are now quite comfortable. Oh, I replaced the crappy insoles with a $9 pair.

Support: I bought these boots hoping they'd provide better support than traditional work boots. I work off-trail in rocky forests and the ankle support in combination with the shank made climbing and side-hilling less treachorous. Compared with floppy 8" work boots the ankle support of the Alico's is like wearing ankle braces. I also like the lace-to-toe construction which allows you snug up the toe box as the leather stretches.

Water Resistance: I have failed at waterproofing these boots so far. I have used Sno-Seal with other boots and it worked well (though messy and a magnet for crud) but was too afraid to use it on the Alicos due to its petroleum content. Obenauf's LP seems like a nice product for conditioning but failed at waterproofing the Alicos even though I used multiple applications and a hair dryer to melt it in. Keep in mind I wear the boots off-trail often in wet, abrassive vegetation. Alico suggests using a flurocarbon based water proofing product—anyone know of one? I also used a thin bead of Welt Seal on the welt.

I have worn these boots for the past four months, 5 days per week and 6 hours a day. The leather hasn't cracked, the laces haven't broken. A seam inside the boot has split which I duct taped.

I am interested in seeing how they survive a second field season and if I can find a product that can waterproof the boots, at least for a day, without damaging the leather. My last pair of boots were Carolina's that held up really well but they are more suited for construction sites than mountain sides. The Carolina's now feel like moccasins compared to the Alico Guides.

SECOND REVIEW ABOUT A YEAR LATER

I initially gave the boot a great review and I was excited about trying them out after using plain old work boots on steep hillsides for many seasons. I dug them the first season once they broke in—after they got soaking wet and softened up.

This year, the second season, I was noticing that the boots were wearing off-kilter and this made it feel like I was walking on a slope when I was on flat ground (think bow-legged cowboy in old boots), this also had me concerned that I could roll an ankle easier given the angle the boots were at. My coworker even asked how long my boots last me when she saw the state of the Alicos.

I concede that my feet supinate and that I have a wide foot, but I have never had a pair of work boots wear like this, including Chinese made boots in the $85-$120 range. I don't think it was the Vibram sole that wore unevenly, I believe it was a combination of the leather upper stretching and distorting to one side and the leather layers between the sole and the upper compressing unevenly. But who knows, I'm not a cobbler.

Last thing, at the time I sent the boots back the sole in the arch area was separating from the boot, I was waiting for it to progress to the toe or heal and lose my soles in the middle of the forest!

Really disappointing. I sent them back to Sierra Trading Post and will try out a pair of modern looking back packing boots.

If I can upload a couple photos I will.
Similar items and more information in the following areas: