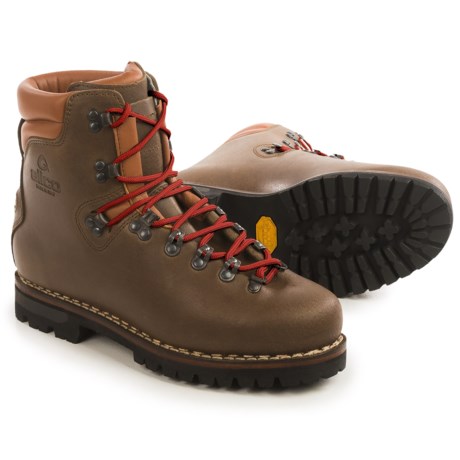 Old school mountaineering boots.
Reviewed by Simon Bar Sinister from Boston,Mass. on Thursday, October 10, 2013
This is how you manufacture boots. These boots are made the old way using the "Norwegian Welt " design, this enables you to have them repaired, and re-soled when, or if they ever wear out. ( if you can still find a Cobbler, or old shoe repair shop in your area ). The leather is like "Pigskin iron". And the ankle support is like wearing ankle braces, and the shoe bed inside is very comfortable. I wear a 9EE, and ordered the 9 wide, and I can honestly say that the size is very accurate. These boots are mesmerizing once you remove them from the box and begin to check out the stitching, and feel of the different types of leather incorporated in the boots, you can see how superior the craftsmanship is in comparison with the Standard cheapened quality of the Chinese manufactured products that have so saturated the consumer market today. They are heavy, and stiff, weighing in at around 4.5 lbs as a pair, and im taking my time in breaking them in with a good pair of wool socks, and just by wearing them around the house, and bending them by hand in order to avoid any hot spots, or blisters on my feet. -However, -you will understand why this is necessary after your initial inspection of them. Years ago, these boots were a common staple in U.S. Shoe ,Army Navy stores, etc, and occasionally you would see someone wearing a pair, but rarely today,you can only find this design of boot on eBay, and they are pretty much used, and were sitting in someone's closet for the past 30 years. These "New Guide 'Alico's were available through "Sierra Trading post" years back, but didn't want to fork out the $400+ price tag, and waited until they finally went on sale for $140 or so less . Needless to say, very well worth it. - If you are looking for a serious hand made Old school Mountaineering boot, you won't be sorry with these Alico's.
Similar items and more information in the following areas: