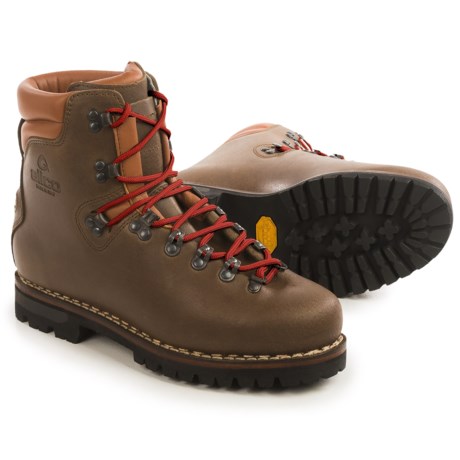 First Impressions, to be followed up...
Reviewed by Rod from Idaho on Tuesday, April 1, 2014
Reading many of the reviews on this site, I purchased a pair of Summits since many stated the New Guide to be very heavy, etc.

As for the Summits, they are very well made and appear of high quality, but they are more like molded-sole "hikers", not really stout mountain boots. I sent them back.

I have worn Whites for many, many years but have had numerous problems with them and decided to try something different. I have a pair of Asolos that are very comfortable but have a sold tread that is simply dangerous on slppery terrain, very poor. I actually took an angle grinder and cut grooves in the soles to improve the grip and that helped. I've used them very hard and the soles on mine eventually peeled off, too, but I reglued them with contact cememtn and sealed the entire edges with the excellent product Free Sole. But I still needed a replacement for my Whites Loggers.

I bought a pair of Alico New Guides. I am just breaking them in now and they appear to be exactly what I have been looking for.

For those who really need a stout boot to live in and cover lots of rough terrain in, don't fall for the horror stories of the weight of the New Guides. They are NOT that heavy. Yes, they are heavier than tennis shoes, but if you need srong foot and nakle support on rocky and rough terrain, no flimsy-soled boot will do. I have not yet worn these hard but they appear to be of really excellent materials and construction and tho I was a Whites user for many years, like these better.

Due to the onepiece construction and conformation, I am able to slip a 3/8" lift in one boot and still make it fit. The lacing system allows this without having to have a custom shoe built.

And man....am I happy to see a boot with an actual Vibram sole.

I live in and need very sturdy boots and look forward to updating these.

My feet as custom sized run 10 and 10.5. I ordered both a 10.5 and an 11. The 10.5's are going back as they are just a smidge short. I like the generally narrow feel to the boot. Give the foot support side-to-side.

For those who are scared off by the horror stories of "too heavy", "too hard", etc, don't be. These are good boots. I did initial breakin wearing them indoors for 2 days and they began to conform to my feet very well. I hope they turn out in the mountains as they appear to be; Excellent boots.
Similar items and more information in the following areas: