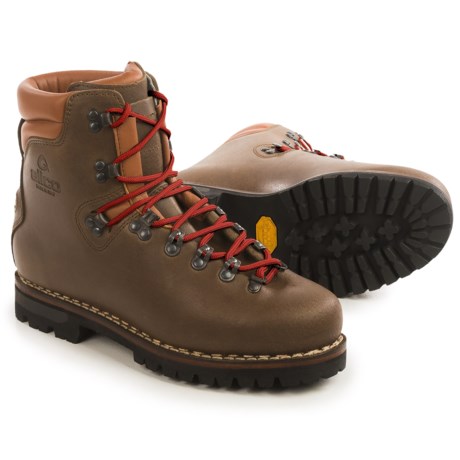 Built like a Sherman tank, not as heavy as described.
Verified Buyer
Reviewed by JeromeZ1 from Colorado on Tuesday, May 20, 2014
I've owned several old-school Italian made boots like these since the 80s and they have all been about the same regarding quality and construction, although this Perwanger leather is different from the thicker full-grain leather of prior boots. And this makes the boots lighter, yes lighter in my opinion! I'm in my 40's and don't need to be swinging around hams from my ankles anymore so I was hesitant to order one more pair to last me the rest of the decade. You can imagine my surprise when I put these on and started stiff-walking around the house with ease like a young Frankenstein. Maybe if you're used to those glued together Chinese tennis shoes passing for hiking boots these days (I've owned and blown through several pair), then you'll think these are a bit heavy, but otherwise, they just aren't that heavy. I haven't begun the break-in phase, but I already know what's in store for me so I can't say anything negative about that. These seem like they'll hold up on or off the trail just like my previous pairs. Buy them 1/2 size larger than what your foot is. If you're into trendy fast-packing ultra light gear, and don't want boots you can beat on like a red headed step child, then these aren't for you. It will be a sad day if STP stops selling these. I might have to pay $500 for some Limmers in the future.
Similar items and more information in the following areas: