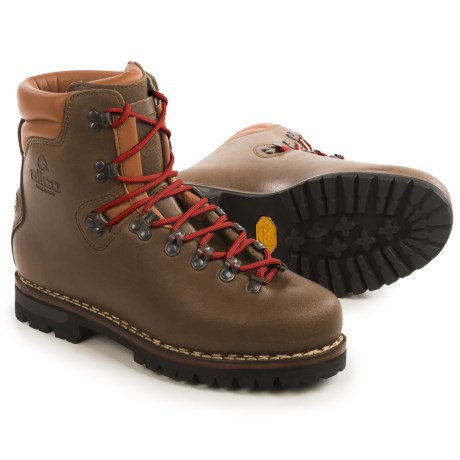 These boots are the best!
Reviewed by superfarmer from Santaquin, UT on Friday, January 2, 2015
I work on a farm and wear boots everyday, all day, to work in. In 2009 I was fed up with spending tons of money on "work boots" from various retailers and online sellers only to have them fall apart after half a year. So, after extensive research, I bought a pair of these beasts. I initially reviewed them on this site in 2009. This pair lasted just under 4 years and took every thing I put them through. I wore through 2 soles on them before I finally had to retire them. In January of 2013 I bought another pair and after a year they are still in great shape and ready for more. I highly recommend these boots for people who need something rugged and durable. Listed below are a few of my observations after logging five years in these boots.

-Plan on at least a month, and probably two, of wearing them everyday for break in. If you only wear them occasionally, then breaking in will take much longer. They are extremely stiff when first worn. I would only wear them for a half of a day at a time when I first got them because of this. DO NOT take these on a long hike or backpacking trip right out of the box or you will be miserable.

-Though I use these boots primarily for work, I am an avid backpacker and have used these boots for outdoor activities as well. They perform well as a backpacking boot, they give tons of support and stability. However, they are kind of heavy. If you are not doing any serious mountaineering, or prefer less strenuous trips, then I would look for something else.

-For maximum longevity, I treated these boots a couple of times a year, and tried to avoid excess water exposure. If I knew I would be out in the irrigation water checking sprinklers, I would change into my rubber boots. (Common sense, right?) However, if I were ever caught in the rain without other boots, the leather on these do okay at keeping water out.

I hope this review helps. Again, I have loved these boots for what I use them for. Highly recommended.
Similar items and more information in the following areas: