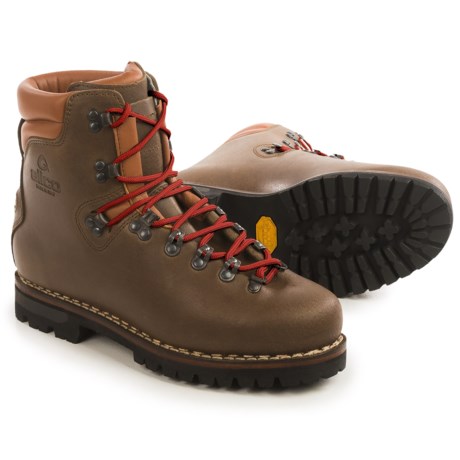 "OUTSTANDING"! Can't say enough good things!
Verified Buyer
Reviewed by The Gunny from Pa on Friday, March 18, 2016
These boots are fantastic. Right out of the box, you can't help to notice the craftsmanship that went into making these boots. I've spent over twenty years in boots and I've learned that if you don't take care of your feet, they won't take care of you. These boots are very well made.
After reading several reviews about "break-in time", I decided to do what I have done for years. After taking them out of the box and admiring them, I applied a nice heavy coat of Obenaufs LP. If you're not familiar with it, give it a try. You won't be disappointed. Not only does it provide an extra water barrier, it protects and restores your leather by replenishing the natural oils It will also help with softening the leather, making "break-in" a lot easier and faster. After the first coat of Obenaufs was applied, I let my New Guides set over night, fighting the urge to put them on and wear them the next day. After twenty four hours, I applied a second coat of Obenaufs. I waited ANOTHER twenty four afters and then came the time that I had been waiting for. After I laced up the boots and walked around the house a little, the first thing I noticed was the comfort. They were very comfortable. The inserts that come with the boots were removed and upgraded. But, the over all feel of the leather liner was great. The boots were a little stiff, but that's to be expected because they are very, very new. Some of the reviews mentioned the weight of the boots. I personally do not think that these boots are heavy at all. I think I actually have boots that are heavier. As mentioned before, the boots felt great. I was very satisfied with the feel, the weight and the appearance.
After wearing the boots around the house for a day with no "out of whack" rubbing", I decided it was time to take them for a little "stroll". Let me tell you, the boots lived up to all I could've hoped for. They felt great! No unnecessary heel rub with just the right amount of room for my toes in the toe box. The laces held everything in place and remained snugg. I've been wearing these boots now for nearly a week and each day, they feel better and better. Not they they have ever felt bad. They just seem to conform to my feet a little more each and every time I put them on. They're more comfortable now then they were when I first put them on. Did I mention, "I LOVE THESE BOOTS"!
If you're looking for a well made boot that will provide you the support and outstanding comfort, I highly recommend the Alico New Guides. These boots are amazing. They might be a little pricy but, you definitely get what you pay for. If you take the time, and invest a small amount of time protecting your investment, these boots should last you for several years and hold up to just about anything you throw at them.
Similar items and more information in the following areas: