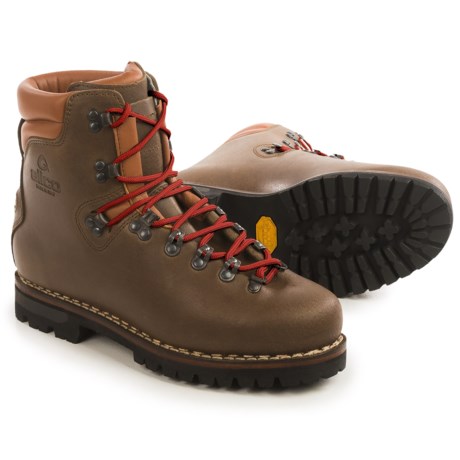 Great boots for Women too!
Reviewed by VTGirl from Vermont on Saturday, October 15, 2016
First, sizing: In Alico women's I wore 10.5 and in Men's boots I purchased these in size 8.5. If this is helpful to others, my foot measures 10 1/8" with my wool socks on and I measure between a C - D width, with a narrow heel and wider forefoot.

Stock insoles suck, as expected, so don't judge the boot until you slip in a pair of suitable insoles for your feet. I use superfeet.

I received these boots 6 days ago today and they're amazing! Great quality and stiff as you'd expect a mountaineering boot to be! I purchased these boots to wear walking the dogs, hiking and for everyday use. Some may think this is crazy but I've had multiple surgeries on my feet over the years and need something stiff to prevent lots of bending and motion in my shoes. The pain that came with breaking these boots in wasn't nearly as bad as I read in other reviews and on the third day I'm able to wear them comfortably walking and moving around on my feet for 8 hours ( up and down ladders, uneven ground, etc), after that I have my typical scar tissue pain but no new pains I didn't have before:-) For reference I'm 140lbs and it took about three days wearing these boots all day for them to be comfortable and form to my feet better and have no doubt they'll just get better with age. I would imagine the heavier you are the fast these would break in for you and mold to your feet. I hope to get out in the woods with week with them and do not foresee any issues since there's no odd rubbing anywhere but this generally is not a problem for me, I mainly off trail hike where others haven't been and had a real hard time with stability in my asolos and even my women's alicos. My ankles and feet would experience major fatigue within 2 hours being out from all the flexing of the sole.

Hope this review helps someone! I really love, love, love them and am excited to be able to stand longer than I have in a long time thanks to all the great support and stiffness.

Oh, one other thing, the weight of these boots. I would say if you're already used to wearing boots it's really not a big deal. I only wear boots and they were what was expected. If you don't typically wear boots and think you're going to wear these every day, I think you'll be in for a big surprise so be prepared!
Similar items and more information in the following areas: