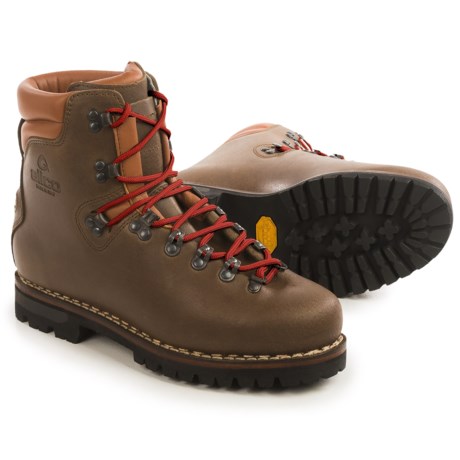 Please never stop making this boot!
Verified Buyer
Reviewed by Trailseeker from Pacific Northwest on Thursday, October 27, 2016
I'm a wannabe. I am. I wish I had a Guide lifestyle - in the woods all day every day. But, instead I am a 1 hour daily dog walker and weekend hiker. But, I pretty much wear a boot until it can't be mended. In the 1980s I had a heavy duty pair of Vasque boots that were not as nice as these Alicos but had very thick leather and a 3/4 shank. They lasted me 25 years. I think these Alico Guides will last me as long or longer. The construction is outstanding. They are comfortable out of the box, if quite stiff. But, my 205 lb. frame makes them bend when and where you want them to. I have more work to do on top where the first set of eyelets has to fold that impressively thick leather together. Once that is made to break in, they'll be perfect. I also have a pair of Summits which are probably more than my lifestyle requires, but once you have broken in these mountaineering boots you feel indestructible. I couldn't turn my ankle if I tried, and nothing is getting in these boots. I read up on the silicone treatments, but they all evaporate and dry out the leather over time. With a beeswax based product, you will be happier in the long run in wet weather environments. The only reason the Perwanger page says to use a silicone product is because most boots made with Perwanger leather have rands which will delaminate if the wax gets under them - not a problem for you and your Guides - so treat and beeswax away! Happy hiking or trecking or whatever!
Similar items and more information in the following areas: