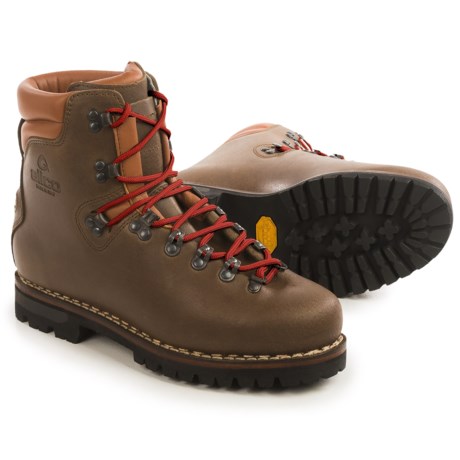 Full Boots! Really fantastic!
Verified Buyer
Reviewed by Cesar Lincoln from Brazil - São Paulo on Thursday, June 29, 2017
Initially, I would like to thank all previous reviews that have helped me a lot to decide that the Alico New Guide Mountaineering Boots - Leather (For Men) is perfect for me. There are times I wanted to have this boot model because it is beautiful, so I considered the following relevant points to buy: comfort, finish, quality of materials, product durability, and price. As for comfort, I can say that the size 10.5 D served perfectly to me, this is the size I always buy for boots, so I had no problems with these Alico boots, my feet fit perfectly on the sides and heel, there is also enough space To prevent my fingers from touching the tip of the boot, avoiding problems especially in the descents. The 3/4 steel shank system did not bother me at all, I felt no difficulty crouching, flexing my feet normally during the walk. The outer leather is thick and rather stiff, but this is a quality that increases wear resistance, I can say that at first I felt a little hardness in my feet, but without bubbles, and after a treatment with natural oils for hydration of the leather , And a week of daily use, the boots have finally molded at my feet and today they are as tailor made for me, I love it! The handcrafted finish is spectacular, with precise seams and no loose ends, the pieces fit in harmony, a point that deserves praise is the all-leather interior trim except the insole that is made of synthetic material, so I replaced it with another insole with a surface Leather on silicone underneath, which is very comfortable. Metal speed lacing system resistant and better preserves the lace because it has sliding pulleys. The quality of the materials is great, there are no scars on the leathers, the Vibram sole is authentic and the stitching lines have no flaws, the shoelace is of excellent quality, however it is in the red color, so they were stored for replacement, while other shoelaces Browns are in place in my boots, but this is only for personal taste, I kept the quality, I just changed the color. As for the durability, I have no doubt that I will wear these boots for many, many years without ever worrying about detachment of their parts, I had problems with other boots that had soles glued, but I believe that these Alico will resist much more because it has sewed sole. For all that these Alico Guide Boots offer, I have considered the appropriate price. Other brands even charge twice as much, but they do not deliver everything that this boot presents, so for me it was a perfect purchase! I am buying other Alico boots for my wife, who loved mine and now wants for her. I also received positive feedback from my friends when I wore these boots! Anyway, with these boots I feel safer, comfortable and with good looks. A curiosity, these boots are the product of Italian craftsmen living near the Dolomites (mountain range with snowy peaks), so they know full well what they do! Highly recommend!
Similar items and more information in the following areas: