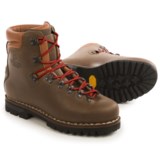 Closeouts. Handmade in Italy of Perwanger leather, Alico's New Guide hiking boots are built for years of use in rigorous alpine terrain. The durable speed lacing system ensures a supportive fit, and the leather-lined interior is breathable and nearly friction free.
Average Rating based on
327
reviews
4.605504
0
5
Verified Buyer

Reviewed by Douglasgets from Utah on Friday, November 24, 2017

Been Wanting Some Old School Waffle Stompers And Was Happy To Find These For Such A Great Price .

Thank Sierra Trading Post

Sicerely,Douglas Ulibarri

Verified Buyer

Reviewed by Mel from New York on Wednesday, November 8, 2017

It's a beautiful boot but narrower than Summit @ same 9W.
I exchange to Summit then feel better fit.
But I steel miss Guide quality.

Reviewed by Clint from Montana on Monday, November 6, 2017

These boots are fantastic tools for people looking for the MOST durable and supportive foot wear in all types of terrain. These boots are constructed with superior leather that is thicker, more durable, and much stiffer than other boots on the market. The leather is sanded for a tighter, more abrasion resistant grain, and impregnated with silicone for water-proofing. These are not like the glued together soft and supple hikers you find in most stores that feel good when you put them on. These will make your feet hurt within minutes until broken in. Learn the break-in procedure and wait it out for a truly amazing fit that can't be duplicated. These boots are true to size, so don't over think it. They have great toe box room and, the sides may feel too tight at first but will end up being just right. I like to break them in by wearing them every other day (gives your foot time to recover), and slowly cinching them up more and more adjusting the top and bottom lacing as needed. Wear them until your feet have a pretty good ache and then switch into something else. After several days you can stand to have them on all day, but the break-in continues for months.

There are a lot of premium priced hiking boots out there costing around $400+ with glued on soles and glued on rubber rands - This boot is several leagues above those in durability and support, plus with STP's price, you get these for a steal. If you need a boot to be comfortable today, or you're a hipster looking for something to impress your date this weekend - Don't buy these boots! - These are for people that run normal boots into the ground every 2yrs.

I'm all for new technology, and in most cases it brings major improvements to products - but these boots that are hand crafted from old school materials certainly outperform the mass produced offerings that I've tried (Asolo, Kenetrek, Danner, Salomon, Zamberlan).

Reviewed by Daniel from Wisconsin on Saturday, October 28, 2017

You will not go wrong with these boots. Very comfortable boots. Take the time to break them in. Top of the line leather is high quality. Wear mine all day and offers excellent ankle and arch support.

Reviewed by Doc from Florida on Monday, October 9, 2017

I have owned many different brands of hiking boots over the years. Asolo, Lowa, Vasque, Merrills, and I have to say that these are the best built ones I have owned so far. They are heavy, and they are hot. That being said, they are also built like a tank and it will take a lot to mess them up. Mine were a bit larger than I had hoped, but that left some room to drop some air pillow insoles with a superfeet hiker on top of it. A good set of socks and I will have my winter boots. Day 1 I wore them for a 10 hour shift at work. I was glad to get them off at the end of the day, but then I was just glad to have that day done. Huge difference between the start and end of the day. They still have a long way to go to break in, but they will get there.

Verified Buyer

Reviewed by Tony from Victoria Australia on Monday, August 21, 2017

As expected these are made with excellent craftsmanship.
They'll take a lot of breaking in but I expected that and anybody considering these should factor that into the buying equation. Don't say you weren't warned.
They're a true old school mountain boot with what feels like a more or less 3/4 shank, not a lightweight hiking boot so if you want something light and easy to get about in perhaps consider something else but if you want true hard wearing full support boot that you only get from padded and lined mountain boots consider these.


Verified Buyer

Reviewed by commuterguy from MD on Sunday, August 20, 2017

Although I cannot prove it, the 13 wides I ordered were 13 regulars. I've worn wides on the Tahoes and Summits and they felt like wides. The wides on these boots were very narrow. I was very disappointed because I really like these boots. I will try again when a new shipment comes in... STP refunded me.

Verified Buyer

Reviewed by Asya'ari Ismail from Singapore on Tuesday, July 25, 2017

This will be my first purchase of an old and traditional, heavy-duty leather hiking boots and my first purchase made from STP. Throughout, the whole experience is very much pleasing and STP and the community here had been really helpful to answer my queries from sizing and care for the boots. At first, I contemplated in buying an oversize boots. I am wearing a size 10 (US) running shoes and after much thought, I proceed with purchasing a size 11 after reading reviews from other hikers to generally wear a half size larger or one size up. I thought this is too bulky and there is a lot of toe room space, but now I am loving these boots so much. I have yet to wear it or even condition it. Will appreciate any of you guys to advise me further. I am planning to use the Obenhauf's conditioner I had bought specifically for these boots. I am a very much happy and satisfied buyer now. Yeah!

Verified Buyer

Reviewed by Paddler from Crested Butte, CO on Monday, July 10, 2017

Well built and burly.

Verified Buyer

Reviewed by Cesar Lincoln from Brazil - São Paulo on Thursday, June 29, 2017

Initially, I would like to thank all previous reviews that have helped me a lot to decide that the Alico New Guide Mountaineering Boots - Leather (For Men) is perfect for me. There are times I wanted to have this boot model because it is beautiful, so I considered the following relevant points to buy: comfort, finish, quality of materials, product durability, and price. As for comfort, I can say that the size 10.5 D served perfectly to me, this is the size I always buy for boots, so I had no problems with these Alico boots, my feet fit perfectly on the sides and heel, there is also enough space To prevent my fingers from touching the tip of the boot, avoiding problems especially in the descents. The 3/4 steel shank system did not bother me at all, I felt no difficulty crouching, flexing my feet normally during the walk. The outer leather is thick and rather stiff, but this is a quality that increases wear resistance, I can say that at first I felt a little hardness in my feet, but without bubbles, and after a treatment with natural oils for hydration of the leather , And a week of daily use, the boots have finally molded at my feet and today they are as tailor made for me, I love it! The handcrafted finish is spectacular, with precise seams and no loose ends, the pieces fit in harmony, a point that deserves praise is the all-leather interior trim except the insole that is made of synthetic material, so I replaced it with another insole with a surface Leather on silicone underneath, which is very comfortable. Metal speed lacing system resistant and better preserves the lace because it has sliding pulleys. The quality of the materials is great, there are no scars on the leathers, the Vibram sole is authentic and the stitching lines have no flaws, the shoelace is of excellent quality, however it is in the red color, so they were stored for replacement, while other shoelaces Browns are in place in my boots, but this is only for personal taste, I kept the quality, I just changed the color. As for the durability, I have no doubt that I will wear these boots for many, many years without ever worrying about detachment of their parts, I had problems with other boots that had soles glued, but I believe that these Alico will resist much more because it has sewed sole. For all that these Alico Guide Boots offer, I have considered the appropriate price. Other brands even charge twice as much, but they do not deliver everything that this boot presents, so for me it was a perfect purchase! I am buying other Alico boots for my wife, who loved mine and now wants for her. I also received positive feedback from my friends when I wore these boots! Anyway, with these boots I feel safer, comfortable and with good looks. A curiosity, these boots are the product of Italian craftsmen living near the Dolomites (mountain range with snowy peaks), so they know full well what they do! Highly recommend!