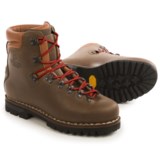 Closeouts. Handmade in Italy of Perwanger leather, Alico's New Guide hiking boots are built for years of use in rigorous alpine terrain. The durable speed lacing system ensures a supportive fit, and the leather-lined interior is breathable and nearly friction free.
Average Rating based on
333
reviews
4.606606
0
5
Verified Buyer

Reviewed by Josh from CA on Wednesday, January 17, 2018

Run try to size, I wear a 9.5 bought a 10 nice fit. The leather is starting to loosen up after wearing around my office daily for a couple weeks. They appear to be very well made and will work perfect for hiking and light mountaineering in the Sierra Nevadas. Looking forward to getting them out soon. Be patient, they will break in.

Verified Buyer

Reviewed by Lane from Alabama on Tuesday, January 9, 2018

As a utility worker, I am constantly on my feet. I climb telephone/power poles on a regular basis. But also spend time on the ground... And I must say these have been a great all around boot for my needs! They have been pretty tough to break in, but good boots always are. I realize these aren't made specifically for my application, but I was looking for a durable low quarter boot that was well built, and had a good shank. These boots definitely fit that bill!

Verified Buyer

Reviewed by Charles from TEXAS on Thursday, December 28, 2017

Great pair of boots. Will take a long time to break in but up for the challenge.

Verified Buyer

Reviewed by Desertgrass from N Nevada on Monday, December 18, 2017

Can not give a full rating yet. They did fit true and reminded me of the way backpacking boots used to be made. I do not think many people new to backpacking understand what heavy duty boots even are. I will give a rating after next summer.

Reviewed by Sam Pajanna from Upstate NY on Thursday, December 14, 2017

These are some old school hikers like they used to make in the 70s. I bought them after reading reviews here and upon initial inspection they do not disappoint. The leather is heavy and tough as nails. They are built like a brick s-house. I am a sucker for overbuilt boots and I've owned Whites, Wescos, Red Wings etc. These measure up to any of these brands in quality. When I first put them on I was a bit alarmed by how stiff they are. As others have mentioned, they require some commitment. Still though, after wearing them for only 3 days, they have eased up quite a bit, and I've been able to take a couple mile long walks with no real issues. They aren't exactly comfy yet, but I can tell that they will be after a bit of wear, and they look great. Given how cheap they are I immediately ordered another pair to stick in my closet for whenever these wear out: try finding boots like this, almost nobody makes them anymore aside from small craftspeople who charge what they need to, upwards of $800...This is a vanishing breed. If you can get them, get them while you can.

Reviewed by William from Berkeley on Thursday, December 14, 2017

and materials and design combine to create a fine hiking boot. Old world hiking / mountain boot craftsmanship evident throughout boot. Well worth the cost for value received, Been wearing these around home for past three weeks breaking in needed time period as others have noted. Excellent ankle support! Very solid Vibram sole. Excellent hiking to light mountaineering boot. Follow this link to Alico's business address in Italy south of the Dolomites and seval kilometers east of Asolo, Italy. This region historic connection to fine boots and shoes..
https://www.google.com/maps/place/Via+dell'Artigianato,+24,+31031+Caerano+di+San+Marco+TV,+Italy/@45.7828539,11.9903691,3a,75y,117.38h,90t/data=!3m6!1e1!3m4!1s-kuUYYFERsVGHVlnjq34Pw!2e0!7i13312!8i6656!4m5!3m4!1s0x4779269c0a5cad63:0xc88e0596307b1fdc!8m2!3d45.78278!4d11.99057

Verified Buyer

Reviewed by Douglasgets from Utah on Friday, November 24, 2017

Been Wanting Some Old School Waffle Stompers And Was Happy To Find These For Such A Great Price .

Thank Sierra Trading Post

Sicerely,Douglas Ulibarri

Verified Buyer

Reviewed by HONG from New York on Wednesday, November 8, 2017

It's a beautiful boot but narrower than Summit @ same 9W.
I exchange to Summit then feel better fit.
But I steel miss Guide quality.

Reviewed by Mountain Man from Montana on Monday, November 6, 2017

These boots are fantastic tools for people looking for the MOST durable and supportive foot wear in all types of terrain. These boots are constructed with superior leather that is thicker, more durable, and much stiffer than other boots on the market. The leather is sanded for a tighter, more abrasion resistant grain, and impregnated with silicone for water-proofing. These are not like the glued together soft and supple hikers you find in most stores that feel good when you put them on. These will make your feet hurt within minutes until broken in. Learn the break-in procedure and wait it out for a truly amazing fit that can't be duplicated. These boots are true to size, so don't over think it. They have great toe box room and, the sides may feel too tight at first but will end up being just right. I like to break them in by wearing them every other day (gives your foot time to recover), and slowly cinching them up more and more adjusting the top and bottom lacing as needed. Wear them until your feet have a pretty good ache and then switch into something else. After several days you can stand to have them on all day, but the break-in continues for months.

There are a lot of premium priced hiking boots out there costing around $400+ with glued on soles and glued on rubber rands - This boot is several leagues above those in durability and support, plus with STP's price, you get these for a steal. If you need a boot to be comfortable today, or you're a hipster looking for something to impress your date this weekend - Don't buy these boots! - These are for people that run normal boots into the ground every 2yrs.

I'm all for new technology, and in most cases it brings major improvements to products - but these boots that are hand crafted from old school materials certainly outperform the mass produced offerings that I've tried (Asolo, Kenetrek, Danner, Salomon, Zamberlan).

Reviewed by Daniel from Wisconsin on Saturday, October 28, 2017

You will not go wrong with these boots. Very comfortable boots. Take the time to break them in. Top of the line leather is high quality. Wear mine all day and offers excellent ankle and arch support.