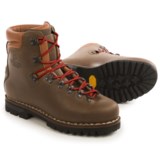 Closeouts. Handmade in Italy of Perwanger leather, Alico's New Guide hiking boots are built for years of use in rigorous alpine terrain. The durable speed lacing system ensures a supportive fit, and the leather-lined interior is breathable and nearly friction free.
Average Rating based on
323
reviews
4.603715
0
5
Reviewed by Doc from Florida on Monday, October 9, 2017

I have owned many different brands of hiking boots over the years. Asolo, Lowa, Vasque, Merrills, and I have to say that these are the best built ones I have owned so far. They are heavy, and they are hot. That being said, they are also built like a tank and it will take a lot to mess them up. Mine were a bit larger than I had hoped, but that left some room to drop some air pillow insoles with a superfeet hiker on top of it. A good set of socks and I will have my winter boots. Day 1 I wore them for a 10 hour shift at work. I was glad to get them off at the end of the day, but then I was just glad to have that day done. Huge difference between the start and end of the day. They still have a long way to go to break in, but they will get there.

Verified Buyer

Reviewed by Tony from Victoria Australia on Monday, August 21, 2017

As expected these are made with excellent craftsmanship.
They'll take a lot of breaking in but I expected that and anybody considering these should factor that into the buying equation. Don't say you weren't warned.
They're a true old school mountain boot with what feels like a more or less 3/4 shank, not a lightweight hiking boot so if you want something light and easy to get about in perhaps consider something else but if you want true hard wearing full support boot that you only get from padded and lined mountain boots consider these.


Verified Buyer

Reviewed by commuterguy from MD on Sunday, August 20, 2017

Although I cannot prove it, the 13 wides I ordered were 13 regulars. I've worn wides on the Tahoes and Summits and they felt like wides. The wides on these boots were very narrow. I was very disappointed because I really like these boots. I will try again when a new shipment comes in... STP refunded me.

Verified Buyer

Reviewed by Asya'ari from Singapore on Tuesday, July 25, 2017

This will be my first purchase of an old and traditional, heavy-duty leather hiking boots and my first purchase made from STP. Throughout, the whole experience is very much pleasing and STP and the community here had been really helpful to answer my queries from sizing and care for the boots. At first, I contemplated in buying an oversize boots. I am wearing a size 10 (US) running shoes and after much thought, I proceed with purchasing a size 11 after reading reviews from other hikers to generally wear a half size larger or one size up. I thought this is too bulky and there is a lot of toe room space, but now I am loving these boots so much. I have yet to wear it or even condition it. Will appreciate any of you guys to advise me further. I am planning to use the Obenhauf's conditioner I had bought specifically for these boots. I am a very much happy and satisfied buyer now. Yeah!

Verified Buyer

Reviewed by Paddler from Crested Butte, CO on Monday, July 10, 2017

Well built and burly.

Verified Buyer

Reviewed by Cesar Lincoln from Brazil - São Paulo on Thursday, June 29, 2017

Initially, I would like to thank all previous reviews that have helped me a lot to decide that the Alico New Guide Mountaineering Boots - Leather (For Men) is perfect for me. There are times I wanted to have this boot model because it is beautiful, so I considered the following relevant points to buy: comfort, finish, quality of materials, product durability, and price. As for comfort, I can say that the size 10.5 D served perfectly to me, this is the size I always buy for boots, so I had no problems with these Alico boots, my feet fit perfectly on the sides and heel, there is also enough space To prevent my fingers from touching the tip of the boot, avoiding problems especially in the descents. The 3/4 steel shank system did not bother me at all, I felt no difficulty crouching, flexing my feet normally during the walk. The outer leather is thick and rather stiff, but this is a quality that increases wear resistance, I can say that at first I felt a little hardness in my feet, but without bubbles, and after a treatment with natural oils for hydration of the leather , And a week of daily use, the boots have finally molded at my feet and today they are as tailor made for me, I love it! The handcrafted finish is spectacular, with precise seams and no loose ends, the pieces fit in harmony, a point that deserves praise is the all-leather interior trim except the insole that is made of synthetic material, so I replaced it with another insole with a surface Leather on silicone underneath, which is very comfortable. Metal speed lacing system resistant and better preserves the lace because it has sliding pulleys. The quality of the materials is great, there are no scars on the leathers, the Vibram sole is authentic and the stitching lines have no flaws, the shoelace is of excellent quality, however it is in the red color, so they were stored for replacement, while other shoelaces Browns are in place in my boots, but this is only for personal taste, I kept the quality, I just changed the color. As for the durability, I have no doubt that I will wear these boots for many, many years without ever worrying about detachment of their parts, I had problems with other boots that had soles glued, but I believe that these Alico will resist much more because it has sewed sole. For all that these Alico Guide Boots offer, I have considered the appropriate price. Other brands even charge twice as much, but they do not deliver everything that this boot presents, so for me it was a perfect purchase! I am buying other Alico boots for my wife, who loved mine and now wants for her. I also received positive feedback from my friends when I wore these boots! Anyway, with these boots I feel safer, comfortable and with good looks. A curiosity, these boots are the product of Italian craftsmen living near the Dolomites (mountain range with snowy peaks), so they know full well what they do! Highly recommend!

Verified Buyer

Reviewed by JustMe from Missouri on Thursday, June 22, 2017

I have been searching for Italian made all leather boots, these Alico boots were EXACTLY what I wanted. Due to extreme arthritis in my knees and hips, I require a sturdy boot. They fit great and feel fantastic. I put them on as soon as they arrived and everyday since.

Reviewed by freedeep from Montana on Wednesday, May 17, 2017

Good quality boot. 3/4 shank, so yes, they do flex in the toe which is what you need. The vibram sole is old school deep lugs that wont clog with mud and loose traction like some of todays new-age boots. Will still work with proper crampons. They do need to be broken in to allow for more toe flex. My method is to start several months before you head to the high country. Start with short walks, adjusting the fit of the footbeds if hot spots develop at bottoms of feet. I wear double socks, New Zealand marino wool with a thin poly outer sock to protect the wool. I did install sorbothane footbeds, add a second thin footbed if required. Be sure the laces are tight at every eyelet, so the boot has to flex with your foot, not the other way around.
Then lengthen the walks to wearing all day, distance at least a mile, include running some distance. Keep adding distance until you can hike all day, wear them all day.
The boots will become your best friend. With a full pack, standing on one foot, you can stand on a rock edge the width of a pencil with no problem. With the same full pack you can glissade down snow or rock scree slopes with no problem. Wade thru rivers waist deep, ring your wool socks out on the other side, and keep going. Boulder jump with the same full pack no problem.
I give them a rubbed in coat of sno-seal, nickwax, etc before each long outing.

Verified Buyer

Reviewed by MadHiker from Texas on Monday, May 1, 2017

First of all, the laces in the picture are light brown and a red on the shoes I have received, this was a disappointment.
It might help if you update the product picture on your site to reflect this important detail.

Now to the bigger problem with the product.
I know that mountaineering shoes are hard to break in, I did wear them around the house for a couple hours to make sure they fit well. To my huge disappointment, the softer leather on the side of the tongue rubbed off and cracked as you can see from the attached pictures. The softer leather seems to be aged or of inferior quality.

This is extremely disappointing, as I do like the shoes and didn't intend to return them otherwise.

Verified Buyer

Reviewed by VanDuck from Payson, AZ on Friday, April 21, 2017

There is old world quality and workmanship built into these boots that is hard to find these days. With the one-piece leather upper and Norwegian welt they will last a lifetime with a little care. Even more remarkable is the STP price! These boots are GREAT!