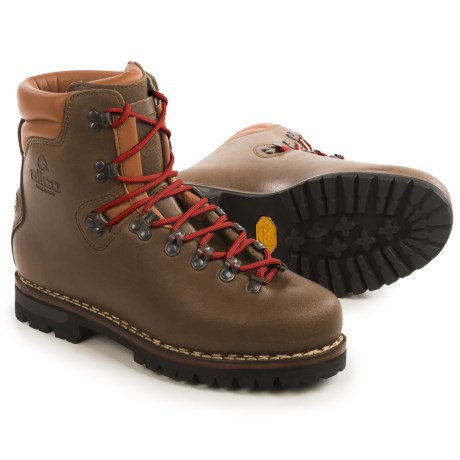 2E is not super wide, but it is wider than a medium width. Refer to our shoe sizing guide for a little more information. http://www.sierratradingpost.com/lp2/shoe-sizing-guide.html|These boots do run narrower by nature do if you need a very wide boot this is not for you.

These boots seem to run "normal" widths, I normally wear a 10.5 med. width. My Asolo Sasslong's and Lowa Pinto's had to be a 10.5 wide.|I also wear a pair of Lowa Trekkers that are a 11 med. and these Alico's I wear an 11 med. So basically when I buy Italian boots, I go a 1/2 size up and it takes care of the width. Hope that helps you, Good luck!

My foot is 4" wide exactly (measured across the ball of the foot, @ the widest part, and standing on the ruler). I got the 2E, and made the right decision. Keep in mind the one piece leather has to flex between the toe box and laces as well as the outer upper mid-quadrant of the boot. Width allowed for flex without bashing my metatarsals, and from what I can tell by ordering 2E the boot seems to run slightly narrow.||I use medium weight hiking socks, and replaced the footbeds; helping the fit tremendously.