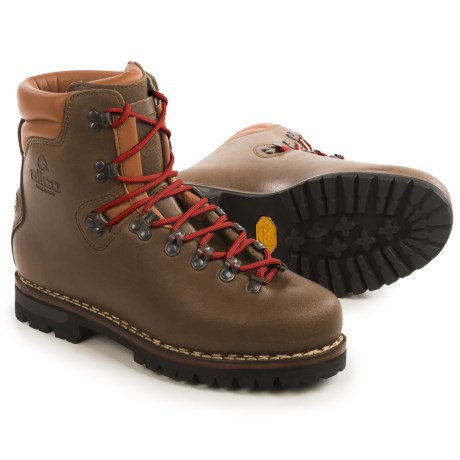 Bomb-proof boots - and STIFF
Reviewed by The Mountain Gnome from East Coast nightmare on Friday, August 13, 2010
Stiff is the word to describe these boots, due to the 3/4 steel shank in the sole and the thick ankle support. TOO stiff for me, but consider that I wear a 10 wide, but I weigh 125lbs, with a wide footbed and narrow ankle. My 300-lb friend eyed these boots with envy. It took me 6 years, yes 6 years of everyday around-town use to wear these in to the point of hiking in them. They still gave me blisters on the heels, as most all boots do to me going uphill (except Danner 10-inch boots). If you are a "thigh" hiker, these boots do you well, but if like me you use more of your calf muscle to step up, the stiffness is a challenge. Also, if I don't pay attention to where I step, a small rock 1-inch high can tilt the footbed and force my leg sideways, throwing me off balance - trouble with a heavy pack; but if I am prepared, the stiffness lets me walk right over anything, or climb like a billy goat needing to catch only my toe on a narrow step. I wore these boots as everyday shoes, owning only a pair of Doc Martin open-toed sandals as my other shoes, for several years. The sole is still thick.
My favorite boots are Danner Super Rainforest, but the lining in these boots traps moisture. The Alico boots are liner free, and have never trapped moisture. If kept treated properly with oil or beeswax, they will be 100% waterproof with no seams to leak. My Danners rely on Gore-Tex, a flawed concept in boots: (a) it can only breathe to a certain extent, and (b) when the leather becomes fully saturated, the Gore-Tex does not work; plus (c) the Gore-Tex wears out and leaks (you ARE walking on it).
I've owned 2 pair of Danner Ft. Lewis (which are like super-comfortable moccasin boots that allow full movement of your foot, yet give full support, with super-stable soles. I can even curl my toes inside, yet the boot-sole will not slide sideways, forward, or back), 1 pair of Danner Mt. Light 2s (comparable to these Alico boots in single-piece-upper design, far more flexible and comfortable to me, but they wore out for hiking in 1 year, then I got another year of work-boot out of them), plus now the Danner Super Rain Forest (that fit like the Ft. Lewis). !!!Keep to the stichdown soles as in these Danner and the Alico boots!!! I've had a high-dollar pair of Clarke's of England crossover-shoes (look nice, had a high collar and traction sole for hiking) but the sole peeled off. My mom had a pair of Vasque boots with Vibram soles that peeled off both boots on the same trip after 6 uses! and left her trying to walk downhill with bad knees, soles flapping, that caused her pain for weeks as she had to walk funny to use the boots at all!!! I've seen other boots (Timberline comes to mind) owned by others that the sole peeled off. Spend the extra cash. Get a =real= boot. It will pay for itself in the end.
Arch Type: Low Arch
Best Uses: Cold Weather, Day Hiking, Everyday, Harsh Terrain, Heavy Loads, Light Loads, Long-Distance Hiking, Wet Conditions
Cons: Long Break-in, Too Stiff/Not Flexible
Describe Yourself: Avid Adventurer
Pros: Ankle Support, Comfortable, Great Traction, Sturdy/Durable, Warm, Water Resistant
Sizing: Feels true to size
Width: True to size
Similar items and more information in the following areas: