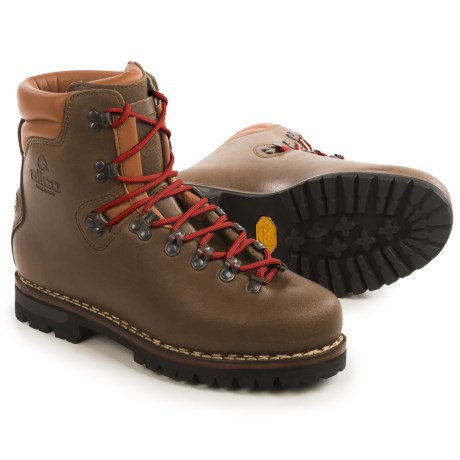 Finest boots I've ever worn
Reviewed by DD from Baltimore on Saturday, December 31, 2011
Toughest and most comfortable boots I've owned in 35 years of heavy duty boot abuse. Bought a pair nearly 9 years ago and they are still going strong. Unfortunately I did not look after them as well they looked after me, and allowed the lining leather to dry out and crack- my fault. Beyond that, nothing on these boots has failed. Look after them & they will look after you.

I've worn these from the rockiest stretches of the Appalachian trail to all day on a construction site. I've worn them in mud and snow in Ukraine, in desert heat in Africa, up and down the Rockies, I've got them soaked when standing knee deep in mud, covered them in wet concrete and tar. I've given them as solid a beating as I can give a pair of boots, and they are ready for even more abuse. I still wear them every day.

The steel shank proved it's worth when I jumped of an 8' high scaffold straight onto the sharp end of a concrete nail sticking up through a 2x4. The wood split, and I had to pull the nail out with pliers. I never felt a thing. Enough said!

These boots are (impeccably) constructed of extremely heavy duty leather and yet fit my foot like they were custom made. When I got them the leather was as stiff and as hard as a ski boot, and I thought I would never be able to break them in. However, I approached the break in sensibly - two days later I went on vacation and took only my new boots and some sandals. Though initially it did feel like I had blocks strapped to my feet I got no blisters, just a little chafing on the back of my calves. This was no mountain hiking vacation, just a lot of walking around the streets of New Orleans, but when I got home a week later my feet had some new best friends.

After 9 years of solid wear they are still stiff and supportive where they need to be - especially where they support my ankles - and flexible where they need to flex. With my chosen insoles - you will need to get real insoles - they are the most comfortable boots I have ever worn. I have never felt that they are particularly heavy, and in any kind of slightly challenging conditions feel much more nimble with them on than I would in sneakers. I feel safe with them on.

I have had a very active life, and had my feet on 5 continent. I have a weak right ankle, and learned the the hard way the real value of wearing "high end" supportive boots. I have worn out Asolos, Raichles, Scarpas and Vasques. All were good boots. All did a good job. However, the Alico Guides are simply by far the best I have ever owned. Nothing compares.

I bought them because I was looking for old school "real" boots - one piece heavy leather upper stitched with Norwegian double welt construction to a Vibram sole. (If my boots were an SUV, I'd want a full size Ford Bronco, not a kayak carrier!) I also did not want to fork over $400 or more for yet another pair of boots. (I got my Alicos for about $150 back then.) I decided to give the Alicos a try, and never looked back.

I not the kind of guy who reviews stuff, but I was on this site tonight looking for another pair of these boots, and decided to share my experiences. (Very happy to see that Sierra are still "closing them out.") I'm buying another 2 pairs as I am now in my fifties, and I figure they will be the last real boots I'll ever have to buy. I've always thought of footwear as an expense. I'm thinking of these as an investment. They are, when it come to sub-snowline boots, the real deal.

An impeccable piece of Italian footwear at a really reasonable price.
Best Uses: Day Hiking, Everyday, Harsh Terrain, Heavy Loads, Light Loads, Long-Distance Hiking, Wet Conditions
Describe Yourself: Avid Adventurer
Pros: Ankle Support, Comfortable, Great Traction, Sturdy/Durable, Warm, Water Resistant
Sizing: Feels true to size
Was this a gift?: No
Width: Feels true to width
Similar items and more information in the following areas: