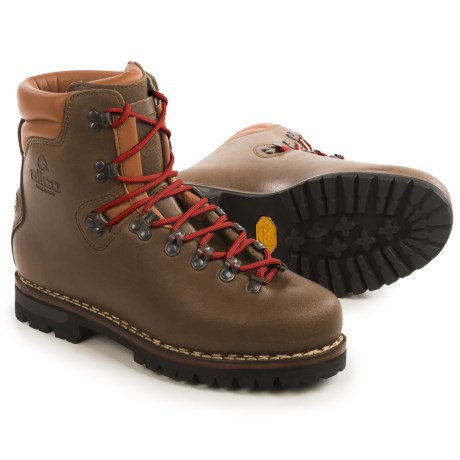 "OUTSTANDING BOOTS!"
Reviewed by The Gunny from Pa on Friday, March 11, 2016
After a long anticipated wait (not that shipping was that bad, only 4 days) my new Alico's finally arrived. I couldn't wait to try them on. Right out of the box, they looked and felt AMAZING. You can't help to notice the attention to detail and great craftsmanship that goes into making these boots. Now, as I mentioned earlier, I wanted to put these things on and see if all the reviews about how stiff and hard these boots were to "Break In", were really going to hold up. But, as much as I wanted too, I waited, and decided to do what I've always done and highly recommend.
Instead of putting on my new Alico's, I applied a heavy coat of Obenaufs LP. For those of you that are not familiar with Obenaufs, let me start by saying that the stuff is a "God send"! You can not, and will not be disappointed. Obenaufs not only helps with the "breaking In" process, it also protects and restores your leather. I have used it for several years on all of my leather boots and have never once, been disappointed or worse yet, got wet feet! After I applied the first coat, I let my new Alico's set for 24hours. After that, I applied a second coat and waited an additional day. By the third day, I couldn't stand to wait any longer. I laced up my new Alico's and went for a "stroll".
First thing I noticed was that the boots are NOT as heavy as some of the reviews have stated. I think I actually have boots that are heavier. The next thing I noticed is that the boots WERE NOT as stiff and hard as some reviews had stated. The boots felt amazing! They were not uncomfortable at all. I was relieved and anxious. These boots are only going to feel better and better with time.
As far as the sizing goes. I typically were a 10R and my new Alico's fit pretty true to size. There is plenty of room in the toe box and zero slide in the heel. I plan on "upgrading" the insoles but, other than that, these boots will remain as is. "Why mess with a good thing"!
If you're serious about the quality craftsmanship that you put on your feet, you won't be disappointed by these boots. I have spent over 20 years in boots and I refuse to "skimp" when it comes to footwear. If you don't take care of your feet, they [...] sure won't take care of you!
Similar items and more information in the following areas: