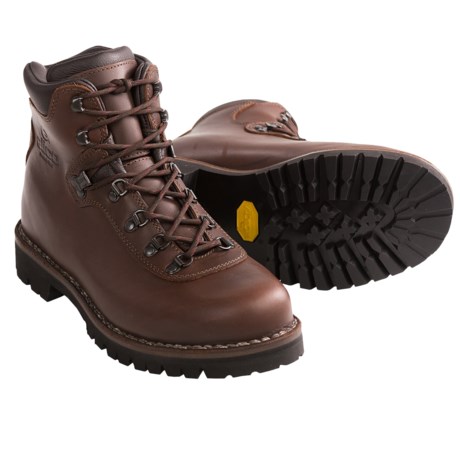 Trust me... these boots are that good!!!
Reviewed by 50th State Scoutmaster from Waipahu, Hawaii on Monday, February 11, 2013
I just picked me up another pair of Alico Summits... and this is the 5th pair of Alico boots that I have purchased. I currently have 2 Alico Tahoes, 1 Alico Guide and now 2 Alico Summits and I can honestly comment on each and every model.

The Alico Tahoe is a good overall hiking shoe that is very comfortable to wear. It has somewhat of a 'Gortex' fabric like liner on the inside. Very easy to break in... and like all leather shoes, one must be able to take the time to break in... but the Tahoes will fit fine after a few days. Suggest getting the Tahoes for general hiking and where you are not carrying too much of a heavy backpack load. I also have a pair that I use for work daily as I have to check jobsites on occasion and look somewhat presentable when in the office. The Tahoes are similar to the Merrell Wilderness boot... another good boot that I own.

The Alico Summits are truly 'my favorites'... almost the same as the Tahoes, but has a higher ankle support, thicker soles and is leather lined. This Summits are similar to my 15 year old Vasque Legends but had a shorter 'break in' time. I recently used my Summits on a Philmont Scout Ranch (New Mexico) trek expedition in July 2012 with my sons' boy scout troop and did not get one single blister the whole entire time. Like all good leather shoes... one must properly maintain by cleaning and oiling on a regular basis.

Lastly... The Alico Guides... the 'mother extreme' of all boots. These took over a month to get comfortable with... and till this day (after 2 years of owning it) I have not had the need to use as it is basically a more 'heavy duty' version of the Summits... thicker leather, thicker soles, heavier, etc. ... PLEASE NOTE THAT UNLESS YOU INTEND TO CLIMB A MOUNTAIN, THESE ARE JUST PLAIN "OVER KILL" FOR A BACKPACK HIKE.
However... as a "MAN", at least I can say that I have a pair of these and can be prepared if I do need to 'climb a mountain'... for now, these only stay in the closet and brought out occasionally to start a conversation with others : )

Seriously... if you are just into general hiking & backpacking... just get either the Tahoes or Summits... better yet, spend the extra $25.00 and just get the Summits... you will not regret it!!!

Oh yeah... all these Alico models come with cheap & flimsy insoles... just pull them out and throw them away and get whatever insoles you are comfortable with.

Hope this helps in your decision making... Aloha!!!
Similar items and more information in the following areas: