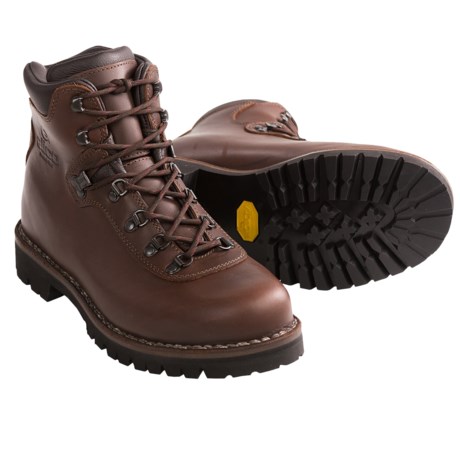 Thinner sole and slightly less thickness the leather.

Beav:

I couldn't give you a concrete answer, but what I can say is that the Summit is an awesome boot. I'm hard on footwear by dint of my location(Kodiak Island, Alaska); lotsa slate/shale, sharp rocks, mud, and rain. I'm treating the Summits like I did my old American-made Herman Survivors of the 70s & 80s: Heat 'em in a low oven, melt some beeswax & pour in either Mink oil or Neats-foot oil and mix it up, then start rubbing it in, especially seams & stitching. I've been wearing the Summits for 2 months now and they are a very sturdy boot. The leather is very substantial and doesn't appear to be wearing in as easily as some boots I've worn out in no time(like my last pair of A$olos). My guess is that you should gauge your activity level to decide just how sturdy of a boot you need. If you're hiking a ready-made trail, get the lighter boot. If, like me, you're bushwhacking while dragging a buck back to the truck, or cutting firewood on a hillside, your feet will thank you for the heavier-constructed pair. My toes are comfy in the rather roomy toe box (unusual for me), and my only beef is that for some reason the boots eat laces. I've broken both laces and re-tied, and they're showing signs of breaking soon again. Possibly better laces will fix this.
And as for looks, I can't stand the techno-geek styling of most of those gaudy hiking boots I see. The Alicos are just what the doc ordered. Besides, fewer panels=less stitching to fail. I think these are going to last me many years.

Although I do not own a pair of Alico Summit Light's, based on the photo's I viewed at STP, the sole seems to be made of a different material than the Alico Summit Backpacking Hiking Boots, although the photo's reflect "Vibram" as a sole of both style of boots, the makers of Vibram do make different types of soles out of different types of material. In addition, the sole on the lights appear to be thinner than the soles on the Summit Backpacking Hiking Boots.

I "think", the thinner sole may make the lights easier to break in. I don't know how the thinner soles will treat your feet if you have to walk or hike in rocky terrain.

I took my time breaking in my Summit Backpacking Hiking Boots. I no longer use mole skin heel pads on my feet and have had no hot spots or blisters, although my left boot does still slip in the heel a little, no matter how I tie the boot, it has not caused any problems. My foot is probably the reason for the slippage.

I do not consider my summits completely broken in. After wearing them around the house for several hours each day, sometimes all day, I began running errands and shopping, etc. in them. After that, I went on several short walks in the woods/on trails (1-2 miles max), then a few 3 to 6 mile strolls, on easy trails in the woods; easy as in not too steep, rocky in places because we have to walk through a couple of dry creek beds. I think after two or three more 5-6 mile walks/strolls on the same trails, they will be perfect. Then I will grease them up AGAIN with some Pecard dressing and use a hair dryer to make sure the stuff soaks into the leather and stitching.

Please note that I REALLY took my time breaking them in...easy and slow, does it; but that is for the Summit Backpacking Hiking boots. If you are tender footed, like my wife, even though you are considering the lights, I recommend you do the same for a break in period.

Sorry I could not provide you with more information concerning the Summit Light.