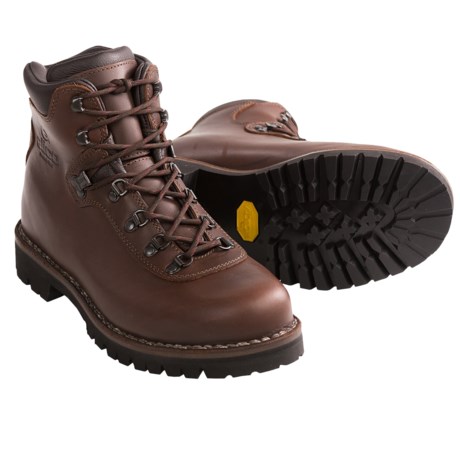 Here is my two cents worth. I moved to this boot after 15 plus years in various versions of size 12 med. vasque sundowners. I am a male and ordered a size 12 med. Alico. The boot has a very ample toe box which matters to me because over the years my feet have flattened out. Even Nike running shoes are a problem with their narrow toe area (the Nike Wides have too much slop in the heel). Anyway the Alico's fit with room to spare. I added a superfeet green insert for arch support. I haven't cut the boot apart but I understand it has a 1/2 length shank as opposed to the full length shanks in the serious mountaineering boots.Like any leather boot it will mold to your foot as it breaks in. Good luck

Male user here, with hard to fit feet. wide across toe, with (hammer toes too), high instep and arch narrow heel.
Different size feet to boot...
Still breaking in size 11 M, added super feet Green insoles and wear Bridgedale heavy wool type trekker socks.
Very nice classic boot construction ! If it has a shank it is not metal, (used a large magnet to check) This boot
feels pretty good considering it's off the shelf and first try in size order.
Order a nice boot, if it doesn't fit, SierraTradingPost is the best place to return and replace, shipping fast and easy too !

Hi Fiona,
Sizing charts are different for many areas of the world and a few are similar, actual sizing fit is different in boot makers from various places.
From what I have found in searching the web today is your 28 cm is approximately a size 44 in men's, this relates to a 10 (some say 10-10.5). That is the same size I wear and also have a wide foot.
The info from the Alico Sport website states the Summit has a half shank, the Summit light is not shown, their e-mail is info@alicosport.it shown on the www.alicosport.it web site. I have the Summit Light boots here and I can feel a shank stiffness in the area where it should be. By the way, I got the Lights in 10 W here at Sierra and the heal and toe box is fine and after break in will be perfect, the leather lining is really nice. Later on will try specific boot inserts if I need to adjust the fit or comfort (also using Merino wool socks for cushion), which you might want to check out for yourself,
For a real leather boot, I also prefer a leather lining over fabric/material. You mention the "timeless quality", I understand this and agree completely.


Hi, Fiona!

I live in Alaska just about literally thru the Earth on the other side of you... funny we meet at Sierra Trading Post! Best thing you can try is to get to a shoe store and measure your foot, or, if you're as remote as I am, check the web for measuring your feet yourself and giving it your best shot. What I have found in my case is that the Alico Summits have a generous toe-box already. What I was able to do was add a set of footbed inserts after removing the original. This not only supports my plantar fasciitis, but also snugged up the toe-box so my toes weren't quite so loose. Right now my feet are comfy, supported, and very happy. Of course, I prefer heavy boots, which isn't everybody's cup of tea... If you like feather-light footwear, look elsewhere. These Alicos are near bomb-proof. I've had them nearly a year and I've been abusing them and they don't even looked scuffed. I can still get away with wearing them to church. Cheers!

Hi Fiona,
Have you decided on a boot? My foot measures 25 cm---so that is a size 7 or 7.5 in US men's (usually a 7.5 in US men's); however, my feet are wide and have medium to high arches. So, I usually end up buying 8 W (or 8 E, or 8 EE in men's) or 8.5 D in US men's regular width. In addition, I also have a high instep. I think my toe box measurement is comparable with a shoe sixe of a US men's 10 D to a 10.5 D regular width (or 270 cm-275 cm).

I did write a review and was posted on 06/15/16. Your measurements sound like you would wear US men's 11 (or the size the larger). But you may get away with a US men's 10.5. As for myself, I returned the Summit (too heavy and too much leather) and requested the Summit Light and the Belluno (both in medium width). In the end, I returned the Belluno and kept the Summit Light in MEDIUM WIDTH. To me, the Summit was an overkill and the Belluno seemed to inadequate (it lacked ankle support). As for the sole, The Summit Light had the right weight, rigidity, support and flexibility.... it fit right in the middle of the Summit and Belluno. It also had a leather lining. I'm sure this review helps as well as the others. If you are stuck between sizes, you may have to buy two pairs and return one. As for roominess, alico boots fit the bill as well the quality. You are welcome.

In addition, the Summit pair that I returned were 8 wide... but they were too wide (too much added leather for the wide width. The Summit Light in medium width worked best for me.