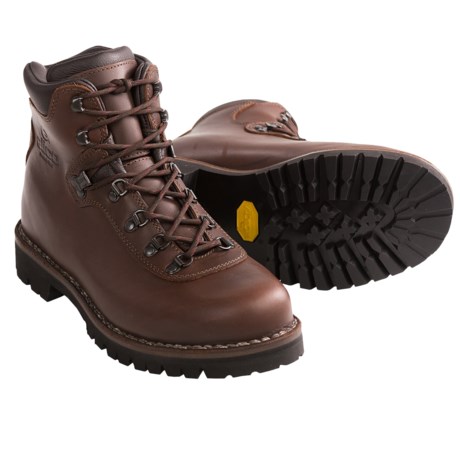 Just like 'back in the day'.
Verified Buyer
Reviewed by Armstec from CDA, Idaho on Tuesday, February 28, 2012
As an inhabitant of the great (wet/cold/rough) PNW by choice, boots are as important a choice as one can make, assuming the choice to do anything outside has been made. "Light" will rarely cut it here, as our summers are very short, and even when it isn't cold, it's usually wet. The only flat terrain is liquid - everything else is some degree of vertical, and all of it is made entirely of rock ranging from bus sized boulders to endless scree slides.
Being cheap by nature, it was a long process choosing the boots I'll be wearing the next 10 years or so, even at the great prices at STP. My last pair were salomons, and they came from STP also, and have survived over 5 years with periodic repairs. As I get older, I have gravitated to heavier socks, and the salomons were just a touch tight in the width, heavier and stiffer, and more mountaineering-oriented than I care to remain. They've found a good home on my son, and we're both very pleased. (Let the young guys climb the rocks - I'll take the pictures.) I ordered these a 1/2 size bigger than my old pair to allow for cushy socks.
I primarily got these due to their being the last leather lined, non-plastic, non-gaudy, sewn-on good old fashioned vibram montagne soled boots I could find for under $400, which is more than double what I'd ever be willing to pay. I grew up at timberline in Colorado, and I still remember the screaming feet from breaking in the old waffle-stompers we loved back in the 70's, and these remind me, but in a much more refined, gentler way of how long it can take. A week or more is a conservative estimate if you wear them all day, and do so on a variety of terrain. They are old-school tough, extremely well made, sturdy as all get out, and (I think) quite nice looking - understated but obviously of high quality. Think Carhartt logging jeans - not anything you'd see in GQ, but something you love and would want to be wearing when/if the zombies come. They may not be designer wear, but you'll never have to waste a moment's thought on whether or not they'll do their job. Functional perfection, and the definition of durability.
They aren't hard-core mountaineering boots, and I'd hate to spend all day kicking toe holds with the wide noses they have, but as an all-around, actually wearable and useful boot, I don't think they have any competition. Good lace lock so you can adjust for up or downhill travel, good heavy leather that will soak up about half a jar of sno-seal, stitching looks solid, sole is perfect for my terrain, and the leather lining (once they're broken in) makes them feel like soft, fluffy slippers - albeit heavy slippers. Excellent rock protection, great ankle support, and with a good insole, plenty of toe wiggle room and zero heel slip. Even the break in period is blister free with the leather lining.
The only drawbacks are that you do need to buy a good insole (if you wear them 18/7 like I do), and they are SO tough it will take a while to beat them into not looking like brand new boots. Like the old day's stompers, the more beat up they get, the better they'll look, and the more you wear them, the better they feel.
I wouldn't use them in heavy snow, just due to the height of the collar, but for everything else, even though they're still new, they already perform like an old friend. No regrets.
Arch Type: Low Arch
Best Uses: Day Hiking, Everyday, Harsh Terrain, Heavy Loads, Light Loads, Long-Distance Hiking, Wet Conditions
Cons: Heavy
Describe Yourself: Avid Adventurer
Pros: Ankle Support, Comfortable, Flashback classic, Great Traction, Sturdy/Durable, Water Resistant
Sizing: Feels true to size
Was this a gift?: No
Width: Feels true to width
Similar items and more information in the following areas: