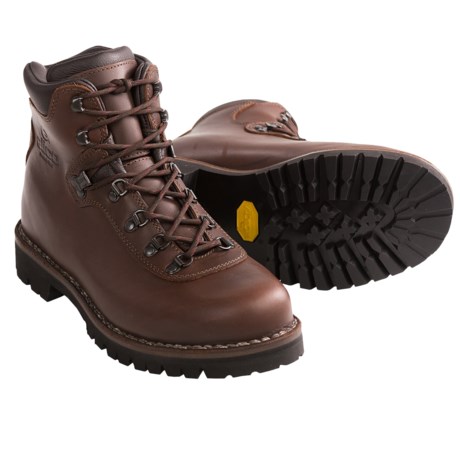 Oh, yeah!
Reviewed by Shrimpman from British Columbia on Saturday, January 19, 2013
I haven't had a pair of real hiking boots, that is to say heavy, leather, Vibram-soled beasts with leather interior, since I was a teenager (thirty years ago). Oh, how I have missed these! Give them three treatments of Sno-seal/Mink oil/Dubbin, and they will be waterproof... and still breath a bit. The plastic bag liner which everybody assumes is a requirement for boots just cooks your feet and holds in sweat. The "micro pores" do not breathe and wick water into the boot when the liner gets the slightest bit dirty. Who ever thought that was a good idea?
These are not comfy walking boots or urban trail boots, or light hikers. If you try to break these in on hard, smooth trails, your feet will likely hurt. These are only comfortable when used for their intended purpose- rough terrain. That is where the rigid leather and sole provide the necessary stabilty to minimize twisting injuries.
Thank to earlier reviewers for their sizing suggestions! I usually wear a size 11, and found the 10 1/2 wide Alico to fit perfectly. Lots of room for my wide and high-arched feet and lots of room for my toes after Superfeet Green insoles are installed. Yes, the factory insoles are junk, which they should be; everybody needs to find the insole which suits their foot, and will throw out the originals anyway.
It is entirely possible that these will be the last pair of bush boots required in my lifetime, which should hopefully include another thirty years of mountain trails. One or two re-solings should do it. Care to speculate on how many pairs of glued nylon and plastic "hiking runners" I would otherwise purchase over the same period?
Similar items and more information in the following areas: