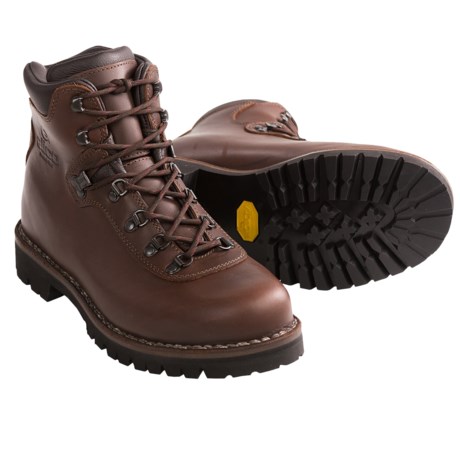 Outstanding boots! check the fit carefully
Reviewed by Free Heeler from New England on Wednesday, July 3, 2013
Thank you STP for importing Alico boots! The Summits are outstanding boots, some of the finest available. The leather is stiff at first, but with just a few hikes they conform to your feet & feel very comfortable, especially on steep rocky trails or with a heavy pack. Similar to my old Merrell Wilderness, but better in a few ways - the Summit and Guide boots both have deep heel pockets and a high volume fit, great for my orthopedic rigid orthodics. (The Alico Glide and Tahoe boots have a shallower heel pocket and cannot accommodate my orthodics). The Guide and Summit boots are designed for double socks or full-thickness socks, my favorite is Fox River Trailhead. Very comfortable, even for short dog walks I appreciate the support of these boots.


Also, the Summit has better cushioning underfoot than the Wilderness, probably from the leather midsole. It also comes up slightly higher and provides better ankle support, without interfering with your stride. And of course, Merrell no longer offers the Wilderness in wide sizes, shutting out those of us with EE feet.


Don't be scared off by the weight or old-school style of these boots! They are only slightly heavier than similar glued-sole boots, I was also considering the Lowa Baffin which is only a few ounces lighter. Going on a serious hike in the Northeast mountains is a dream with these boots, you can put your full weight right on the narrow edge of a sharp rock in total comfort without breaking stride.


Now for downside. All the Alico hiking boots at STP appear to be seconds - they all have minor defects. On a couple of the boots I ordered, the defects were too severe to allow a good fit. With the other pairs, the defect was so minor that it did not affect the fit or function of the boots. Buyer beware - and know that STP will never let you down, just check the boots carefully and make sure you get a pair that fits well.


And, in case anyone else is like me and wants to order other Alico boots such as the "Skate" or "Supertelemark" boots for backcountry skiing - you're out of luck. There is no way to order 1st quality boots from Alico. Neither Alico or any of their Euro dealers ship to the USA, and STP won't do any special orders from Alico. It's too bad, Alico told me the Skate boot is manufactured in wide sizes. You'll have to go to Italy to buy them unfortunately.


Similar items and more information in the following areas: