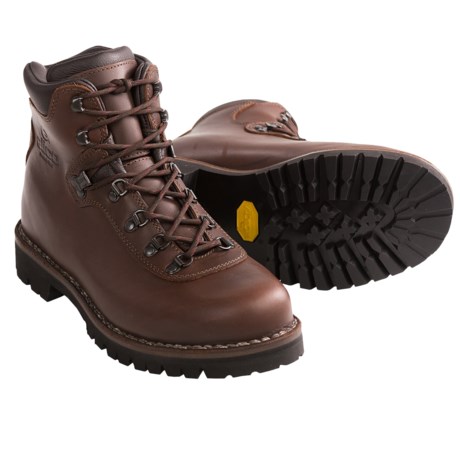 Most uncomfortable break in I've ever experienced.....
Reviewed by Rotartiller from Alabama on Sunday, March 2, 2014
Let me say first that I got these discounted for $155. You can't beat that price for a pair of full leather Norwegian welt boots. I received them and inspected them closely. Overall they are a well built boot. I would have preferred the lacing to go further down the toe but it wasn't a deal killer. One of the only things that stood out in a not so good way was the gusset on the tongue. The tongue is two piece with the gusset being sold into the tongue. I would have preferred a single piece of leather for the tongue and gusset. The gusset is much thinner and softer than the the rest of the leather on the boot. This will improve comfort quite a bit but I suspect it will require close inspection and cleaning to avoid debris abrading the soft leather and forming holes. The other thing about the gusset is that they could have given the wearer an extra inch of water resistance by sewing it further up the tongue. It would not interfere with the putting on or taking off of the boot whatsoever. Moving on....I closely measured my feet according to all the media I have read and watched and it confirmed that I was still a 9-1/2 Medium. That is what I ordered and that is what I got. They felt very stiff as was to be expected. They felt true to size and I was amazed at the roominess of the toe box. Kick test revealed no toe banging. Walking around the house for several hours revealed only marginal heal slippage and nothing out of the ordinary in terms of discomfort. Seemed to be a perfect fit. I got rid of the factory insoles and put in some Superfeet which eliminated the heal slippage. Fast forward over a week and many miles walking and working in these things and tops of both little toes are barking. Every time I go down hill or bump into something my toes hit the front of the shoe. I put the factory soles back in thinking that may alleviate the issues but it was only worse. Its almost like my feet grew an extra half size or the shoes shrunk a half size. I really want to like these boots but it is sorta hard right now. I just hope that more breaking in will loosen them up a bit. Not very happy with these boots at the moment. I had a pair of Scarpas that served me well for 15 years till I had them resoled and then they went downhill from there. I loved those boots but Scarpa North America's customer service is among the worst of any customer service I have ever experienced. I would have gone Scarpa again if not for the service.
Similar items and more information in the following areas: