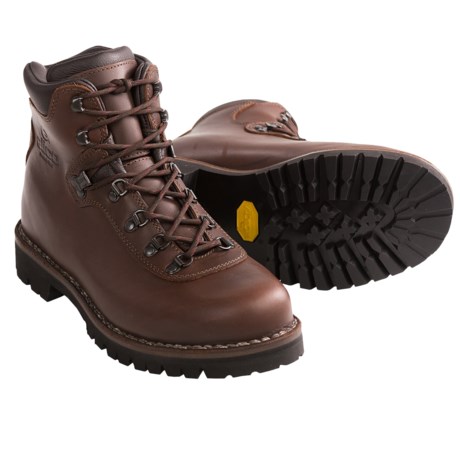 good first impression
Reviewed by gatorbait from OH on Thursday, May 22, 2014
I was looking for a backpacking/hiking boot that could be resoled, will provide years of use, and fit my 14W foot. These boots replace a pair of Danner Wafflestompers I bought a few years back (not the old school Wafflestompers but the 'next gen' with a fused/molded sole). I was reasonably satisfied with the Wafflestompers except that the soles have rapidly deteriorated over the past year while the leather uppers look like they still have years left in them. Vowed that my next pair would have replaceable soles.

I heeded the advice in a couple reviews and went with the Summit over the Guide as a full-on mountaineering boot was overkill for my needs. With my 35% promo discount the price was right.

The Alico Summit make a good first impression. Out of the box you can tell some thought and craftsmanship went into the construction of these boots. The boots felt (very) snug in the toe box and I was concerned that 14W may not fit my wide feet. Dropped in a pair of Superfeet green insoles. After wearing the boots around the house for a few days they are more comfortable. I walked a couple miles in them this weekend with no issues. I do expect that it will take a few weeks to truly break 'em in but so far, so good. Fingers crossed but I think I've found a winner.

Leather boots are probably not for everyone. There's a break-in period. You have to clean & maintain them with a quality leather preservative (I use saddle soap + Obenauf's Heavy Duty LP). I guess they are heavier than fabric boots although I really don't notice the weight when compared to walking around in my Patagonia hiking shoes (and they definitely feel lighter than my Danners).

If I can wear these boots out then I have really accomplished something. Can't say that's the case with most disposable, overpriced hiking boots on the market today.