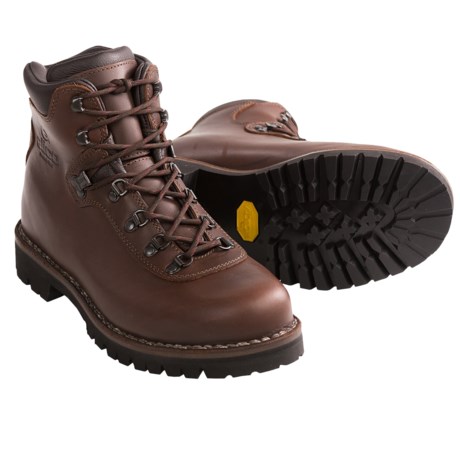 Worth every penny!
Reviewed by Dusty from Essex, MD on Saturday, December 8, 2012
First, major kudos to STP customer service. I'm not easy to fit so I ordered several pair in 11.5 regular and wide, and 12 regular and wide trying to find the correct fit. So, we're talking 7 pair of boots returned over the span of several days. All handled professionally with no gripes or complaints and prompt refunds for the returns. Many thanks!

BLUF, these are excellent boots. Extremely well made and absolutely fit the purpose for which they were designed. Being Euro-made boots I found the regulars to be a bit narrow, as expected. The wides were almost too wide but acceptable. The sizing/length feels true to size, which was a little surprizing being they're European made. The overall fit is excellent. I'd recommend ordering your size in a regular and wide to make sure you have the best fit. It's worth the effort and STP's return policy makes it a no-brainer. I agree with other reviews about the insoles. If you're going to use these boots for the reason designed then a set of custom insoles (SuperFeet, Sole, etc.) is an absolute must. Aside from the cookie-cutter Pros, the big "plus" for me was how they performed in the verticle, non-horizontal environment. The overall construction of the boot (heel, sole, flex points, lacing, etc.) eliminated the typical pain associated with up- and down-slope treks. Lateral support when walking cross-slope is what you would expect from 3/4 boots of this grade/caliber; good with the typical limitations. If you insist on traversing very steep vertical or horizontal terrain you'll need something professional grade.

As for the cons, the only reason I listed them is for the benefit of those who buy these thinking they'll be getting a pair of heavy duty-looking light/mid hikers. I have no Cons about these boots. They perform exactly as you would expect boots of this design to perform. Don't use them for purposes or in ways for which they weren't designed and you won't have any problems. Make no mistake, these are heavy-duty, harsh/rugged terrain, boots not to be confused with sneakers made to look like hiking boots. They're not right-out-of-the-box long haul trekking boots. They (and your feet) will require a break-in. Mine broke in nicely and they fit great. I did not experience the overly lengthy break-in period that some others have complained about. A month, or so, of dedicated wear and care was all for me. My 12W's come in at a little over 2 lbs each. Even when broken in, this may be a little much for every day wear for some folks. It doesn't bother me, but that's me. As for stiffnes/flexibility, mine are well broken in but still somewhat stiff; as I want them to be and as they should be. The footbed and heavy soles are designed to protect your feet in un-hospitable terrain. They don't have the typical sideways twist characteristic of light-weight hikers. That's an unacceptable characteristic which allows the sole to collapse around rocks, or other objects, you step on, which is quite painful. Might as well walk on bare feet. The leather uppers, again with proper care, are comfortable but still supportive. The Vibram lug soles wear as you would expect them to. And, as others have stated, the Norwegian Welt allows for easy sole replacement. That, in my opinion, is a "must" for boots of this design and purpose. The white leather lining is soft and greatly contributes to the comfort-level and fit; something I have long preferred from my days of using Herman Survivors in uniform. Some prefer a material lining and complain about excessive sweating. Unless your feet naturally sweat a lot, proper socks and liners, along with the vital practice of changing socks regularly, should eliminate this as a negative factor.

Final notes: Make sure to fit these boots (as well as any other footwear) with the socks, liners, etc., that you intend to wear while using them. Aside from choosing the wrong size this is the single most contributing factor to fit and comfort problems. Using a Brannock Device to measure your feet is helpful but, because of where these boots are made, take the time and effort to try on several different pairs and walk around the house a bit to make sure you've got the right size and width.

Great boots at a great price that do everything I expect from them. I'd buy another pair in a heartbeat.
Similar items and more information in the following areas: