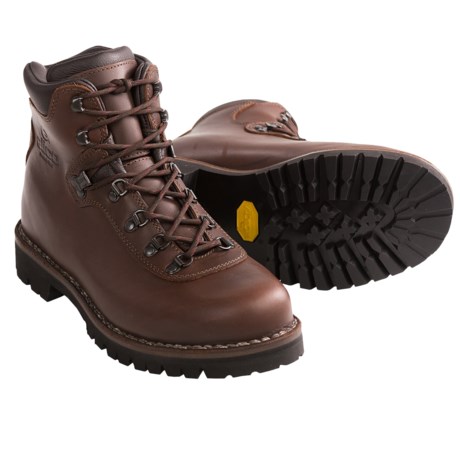 Alico Summit Boots
Reviewed by wikijosh from Albuquerque, New Mexico on Wednesday, March 20, 2013
I am extremely pleased with the Alico Summit boots. The quality is superb, all materials are the very finest, they look good, and inspire confidence to walk over rough terrain. The design is very straight forward, 1 piece of leather stitched to a Vibram sole with a nice white glove leather lining. Not a lot to fail or tear or go wrong. The leather upper is Anfibio leather, a thick full grain calf leather of the highest grade. They are treated to be water resistant, yet breathable. Yes, leather is a viable concept for footwear! No other material will mold it's self to ones unique foot shape. The stout Vibram soles and steel shanks make the soles of your feet feel spring loaded and very stable and resilient to twists or strains. In New Mexico we have some pretty jagged volcanic rock and these are perfect for tough terrain, hence the name summit. For mild level terrain they are an overkill, but for downright dangerous terrain they are great.

Some say they may be heavy, but I don't find them heavy at all. Compared to the newest lightweight fabric hikers, they are heavier, but for leather boots, they are very reasonable. I am 6 feet tall, 220 pounds and have gone through many of the lighter boots like you would disposal items. The glued on soles always seem to peel off at the most inappropriate times. Yes, duck tape can work in a pinch, but I have never had a pair of stich-down boots fail me. These Alico Summits are not just stitched down, but tied down with 2 rows of very thick thread. The upper is very tough, but the lining is very soft, cushioned and gentle. What, no Goretex? The hydrophobic Anfibio leather stops moisture before it gets inside the boot.

Are they difficult to break in? No, but it helps with heavy leather footwear to wet them down before walking in them. I just drape a damp towel over them to wet the leather. Careful use of a good shoe stretcher on the wetted boot will eliminate hot spots like the big toe area for a close, but comfortable fit. I have found Obernaufs leather oil to be the best product for full-grain leather. It waterproofs, but seems to be far more breathable than other beeswax products. The Obernaufs lubricates the leather fibers and makes the leather very supple at flex points around the toe, but leaves it firm where it should be. Leather needs to be kept clean, so clean it. If the pores of leather are clogged and the fibers dry, all the advantages are lost.

Overall, I am very pleased with my Alico Summits. They ooze quality and strength and really look good as only Italian design can!
Similar items and more information in the following areas: