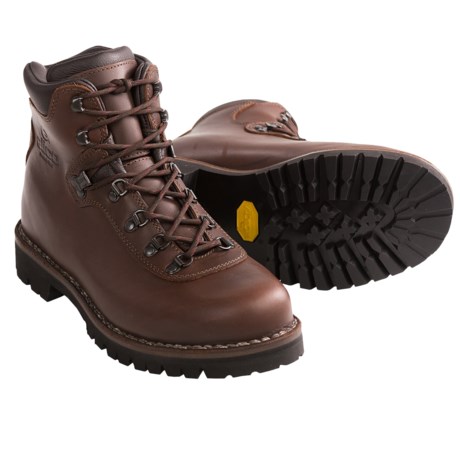 Re-Reviewed, and still a great product
Reviewed by MrMoonbeam from Woodbury CT on Monday, April 22, 2013
A few months back I recieved and began using a pair of the boots.
Since that time, day hikes have been without issue,
However, I was finally able to get some time on the trails with a 45 pound backpack, and quickly found I had completely misjudged my size.
This led to large golf ball sized blisters on the back of both heels over the course of the 25 mile weekend.

I continue to stand by my original assessment though.
These are indeed great boots, and after having exchanged the pair I had (10.5) for the correctly sized ones (11) I feel even stronger about it.
My original pair had the insoles swapped out, and I found that it was snug on both the toes and rear at the heel.
My mistake, was that by manuevering the foot into the boot a certain way, it allowed for wiggle room at the toes, but unrealistically left no room at the heel to allow for natural flexing.
Every time I took a step it either mashed my heel, or my toes hit the front.

Ideally you want this barely snug out of the box, with up to a half inch at the toes, depending on the sock thickness.
Over time they will indeed conform to your feet, especially when using leather conditioners such as Obeneufs LP.

I normally wear size 11 shoes on a daily basis.
My daily work shoes/boots are 10.5 LLBean Katahdin Engineers (Chippewa), which fit like a dream.
Backpacking tends to swell your feet even more than normal, and I feel the pair of 11s fit far better on me with a pair of lightweight hikers (layered with a super thin poly blend underneath)
When I slip them on I have perhaps an eighth inch in the rear, and between a half to quarter inch at the toes.
So long as the sides and top cuff are laced up right - all is well.

I had also previously mentioned my dissatisfaction with the laces wearing through too quickly.
I have since found this was mainly due to the side cinches being a bit too close to the boot itself. You could bend them out a bit to reduce this, but in the end I've decided I can change out the 63" paracord laces I created, often enough to not worry about it.
Similar items and more information in the following areas: