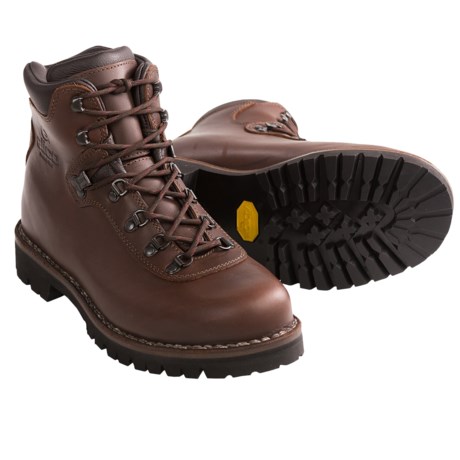 True to size, with a good insert; very high quality - and STP cust service is best in the business
Reviewed by Pete from Ohio on Saturday, April 5, 2014
I read nearly all of the reviews on STP (for this and the Tahoe) before purchasing these. The quality of workmanship and material is unmatched, and this is among the best shoes I own - the equivalent in craftsmanship of Aldens or Allen Edmonds dress shoes. The norwegian style welting (sewed-on sole, not glued-on) allows the soles to be replaced over and over (again, just like high quality dress shoes), and the leather upper and lining likely will last indefinitely if cared for properly. It is so hard to find anything "made to last" but the Alicos are just that. I also tried on the Tahoes, which are just as good in terms of quality and craftsmanship. The difference is that the Summits have a full leather lining, are somewhat higher on the ankle, have a recessed grommet at the ankle.

The sizing does not have to be tricky. Based on numerous reviews, I first purchased these 1/2 size down from my usual size. I will say the 1/2 size down seemed about right at first - but only without adding a high volume insert (e.g. Superfeet greens, Sole brand, etc.). As numerous reviews reflect, the footbed that comes with the shoe is not high quality. I do not think this is a mistake, as some more experienced reviews suggest you are basically paying for the extremely high quality leather and construction of the boot, but the manufacturer is assuming you will buy a separate footbed. Once I inserted a Sole footbed (also available at STP), my regular size was correct, and fits like a glove. Bottom line advice I would suggest: Get your shoe size, but with the boot purchase a good high volume footbed.

And if it doesn't fit, or if you just want to try another boot, STP will take care of you. They have a FREE exchange policy so you get the right boot with the right fit. Their customer service is nearly instantaneous via e-mail, IM or phone, and you get a real person who helps you through the whole process and answers all questions. E-mail them, or call them; you won't regret it. I feel like I got a perfect boot with a perfect fit, thanks to STP. Can't say enough good about the whole experience, and certainly will purchase here in the future.
Similar items and more information in the following areas: