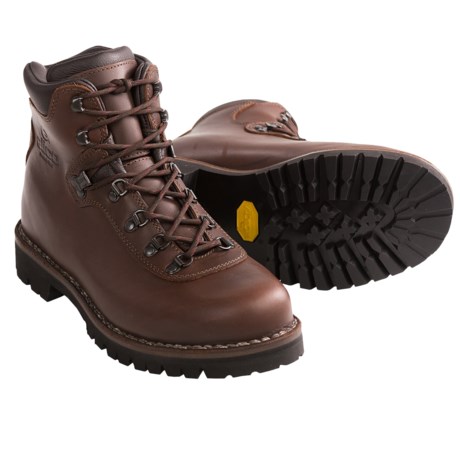 Old school boots
Reviewed by Lawdog22 from Michigan on Wednesday, March 2, 2016
I do most of my hiking in Michigan's UP with seasonal trips to Glacier Park. So my boots have to deal with terrain that varies from the rocky Canadian shield to Michigan wetlands. I cannot comment on how these boots would handle the desert or canyon country.
When it came time to replace my Sundowners I researched other Italian made boots (for the craftsmanship) and was about to drop the hammer on some La Sportiva Pamirs when I found these Alico's. I avoid synthetic boots because I feel that leather molds itself to my foot shape over time while with the synthetic boots what you start with is what you end up with. Plus, as a tightwad I can't see running out to buty a new pair of boots every other year.
I am 6'4 and about 200 lbs. so with my pack the boots need to provide both grip and stability. The Pamir's deliver. The old style sewn on Vibram soles in my experience are the best they make and the shank in this boot provides enough stiffness without the rigidity of a full on mountaineering boot.
As non GTX boots you will need to spend some time with a water-proofer and a rag buffing in a good coat of protectant even on the new leather. (I can't get into the brand names here without alienating some partisans.)
I ordered 12 medium and can report the boots are a little roomier than My sundowners or Asolo cross country boots. The toe box is amazing. I can actually wiggle my toes without rubbing the top or sides of the boots. I have inserted a simple thin "anti-odor" insole under the Alico insole just to take up some of the volume. The length of the boot is a true 12 and the Medium width seems right. Time will tell if expensive inserts are needed but the $2.00 insoles snugged up the boots and my feet don't move inside the boots even on steep downhills.
Like any leather boot you will need to break them in on short hikes. I found that my boots were comfortable after 3 or 4 short 5 mile day hikes. This is far less mileage than my old boots required (Italian leather!) Your experience may vary.
Worries? The fully gusseted tongue is a possible weak point. It is not as nice as the old Sundowner tongue and takes a little care to ensure that it is positioned correctly when lacing up. So far no leaks, no problems.
The only other concern is that I paid full list @$200 for the boots and it look like other reviewers got better deals.
All in all a great boot. I would say I'd buy again, but I won't, I'll just have the boots resoled.
See you on the trails.