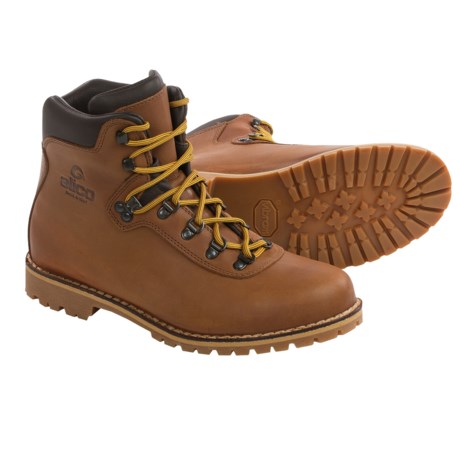 Oh man, these feel good!
Reviewed by Tony B from Hi Desert in So Cal. on Wednesday, February 24, 2016
Box arrived this morning, a pair of 10 W Summit Lights inside, when I opened the box, I was surprised at the extra high quality looking boots in clear bags. I liked them even more than the pictures reveal. No kidding, these boots are beautiful and very well made, I sat down and tried one on with medium weight Moreno wool socks, I sat there and stared at the boot, and I was amazed at the fit and feel.
I noticed it has a slightly narrower heal than most wide boots, a fuller toe box, this is called a combination last in some places that sell high quality footwear. This combo is perfect for my high instep, arch, slightly wide foot and normal to narrow heal. It is hard to find a decent fit in many boots, These Are Perfect!
As I was staring down and "feeling" the boot on one foot and smiling at the "that's the one" that feeling of AAaahhh!, I finally picked up the other boot and looked it over, amazed at the craftsmanship and quality of the leather, the white lining is so smooth. The quality is there, all over the boot!
I had exchanged some other boots here at STP and had Fantastic customer service, great feeling of trust and loyalty to the customer from everyone I spoke to, and they made it easy. I had ordered a pair of the Summits in 10W, also a sturdy very nice boot, but my odd thick feet said, "Darn, so close!", if I had 6 pair in front of me at the store, I bet one would have fit perfect like the Summit Lights, hand crafted and machine crafted have minute variances and sometimes it takes a few to get the right fit.
So,... back to holding the other boot and just admiring the work (I was a shoe salesman many years ago) knowing a bit about form fit and function, I was really enjoying the moment!
I put the other boot on and let them warm up for 5-10 minutes, stood up on a towel for another 5 and flexed my toes, feet, moving around just a bit to feel the fit, and let my feet do the talking. (Tried not to drool as I was smiling really big).
Walked around the cabin for several minutes and was amazed at the feel. Finally cut the tags off and walked outside knowing these are staying here with me.
After a several minutes of enjoying this, I got distracted with phone calls and life, totally forgot they were on my feet, looked down and thought "Wow! are these comfortable!" (wore them all day and evening, still perfect).
Well worth it at twice the price and the BEST customer service I have dealt with. This company went the extra mile in service and I sincerely appreciate that.
Because they took such good care of me even though they could have said "no" and been within the printed guidelines and rules, they said "Yes" and provided me the opportunity to get these fine boots.
So this is the place, sale or not, coupons or whatever, feel comfortable and "no worries" when shopping here. Besides,the fun Barnburners deals are fun to look at with my morning coffee (big grin).
Looked all over online, bought boots and clothes, and sent some back, had to keep a few from other companies that would not honor their return policies. Gave some away, donated a bunch to charities, tried on many different boots at several outfitters in Southern California (We are all Explorers ; ), and I will always come back to Sierra Trading Post.
Most helpful positive reviews
Most helpful negative reviews
Similar items and more information in the following areas: